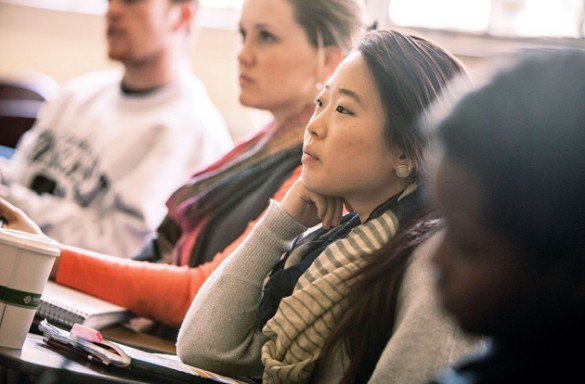 The Office of the Provost is issuing a call for proposals for Trans-Institutional Programs and University Courses for the 2017 fiscal year. TIPs awards and University Courses are open to university- and Vanderbilt University Medical Center-employed faculty. University Courses must teach students in departments that report to the provost.
The provost's office will launch a new online application portal powered by the technology platform InfoReady Review to streamline the application submission and review process and to allow for more systematic feedback to applicants. The portal will open for TIPs pre-proposals on Nov. 3 and for University Courses proposals Nov. 10.
TIPs is entering its third year as part of the university's $50 million strategic investment in interdisciplinary research under the Academic Strategic Plan. The program is designed to serve as a catalyst to support new ideas, cutting-edge research and the development of infrastructure by providing pilot funds for emerging and existing trans-institutional centers and institutes.
There are two types of TIPs awards—Vanderbilt Initiative Awards, which are pilot funds for efforts that are, or may lead to, new programs, centers and institutes; and Vanderbilt Reinvestment Awards, which are made to reinvest in existing trans-institutional centers and institutes. In 2016, 14 interdisciplinary projects, which range from cellular processes to smart cities to global health care issues and involve more than 100 faculty from all of Vanderbilt's 10 colleges and schools, were awarded TIPs grants.
The TIPs Council and review panels will evaluate proposals and make recommendations on funding. Vice Provost for Academic and Strategic Affairs John Geer, Vice Provost for Research Padma Raghavan and Executive Vice President for Research at Vanderbilt University Medical Center Jennifer Pietenpol serve as co-chairs of the TIPs Council.
The 2017-18 academic year will mark the second year of University Courses, which promote new and creative interdisciplinary teaching and learning. University Courses utilize the natural synergies across Vanderbilt's schools and colleges, affording students the opportunity to reach beyond their area of study and into another realm of knowledge to address today's most captivating questions. These courses meet degree requirements across undergraduate majors and many professional and graduate programs. A special call is made for multicultural university courses that meet the University Courses criteria and specifically address multiculturalism, racial/ethnic issues, identity literacy and/or cultural competency within an interdisciplinary setting.
The University Courses Committee and the Multicultural University Courses Committee review and make recommendations on proposals. Four university courses launched in the current academic year.
The call for proposals for Research Scholar Grants and Discovery Grants will be issued later this semester.
Key dates
TIPs proposals
Nov. 28: Pre-proposals due
Jan. 23, 2017: Full proposals due
May 2017: Award announcements
July 1, 2017: Funds available
University Courses proposals
Dec. 12: Proposals due
February 2017: Award announcements
For more information about eligibility, proposal requirements and guidelines on the use of funds, visit the University Faculty Funding Programs section of the Office of the Provost's website. Questions about the application process for TIPs or University Courses may be directed to Schyler Turrin at 615-875-1027 or occi@vanderbilt.edu.