New Faculty Development and Diversity website, mentoring program launched
by
Melanie Moran
Oct. 26, 2016, 10:33 AM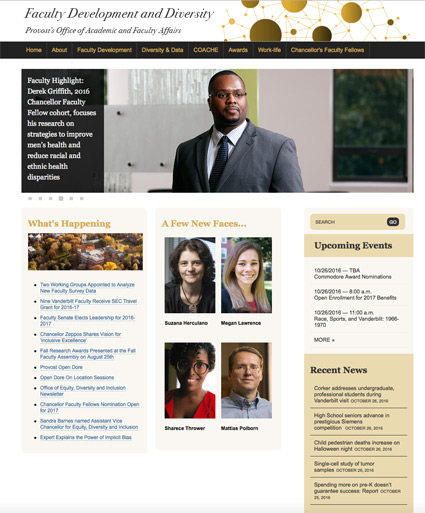 The Provost's Office of Academic and Faculty Affairs (OAFA) has launched a new website to provide easy access to a variety of information related to faculty development, diversity data, faculty awards and faculty resources. The new site also houses a complete list of all upcoming faculty events as well as information about the Chancellor's Faculty Fellows program.
"Our aim is to provide a clear and accessible resource for faculty in support of the university's efforts to enhance Vanderbilt as a welcoming, supportive and inclusive academic community," John Geer, vice provost for academic and strategic affairs, said.
As part of this renewed effort to support faculty, OAFA has launched a program to advance mentoring for faculty called Provost Research Studios (PRS). The deans in each college will identify faculty for a PRS, and OAFA will provide $5,000 to support inviting two to three senior scholars from other universities to provide advice and feedback on these faculty members' research. The goal is not only to provide timely input on research, but to help colleagues build a professional network.
Another part of OAFA's effort to advance mentoring is the scheduling of various seminars. Visit the website to view a list of all upcoming seminars and webinars.
As announced last semester, Vanderbilt University became an institutional member of the National Center for Faculty Development and Diversity. This decision was part of the university's ongoing support to expand diversity on campus. Vanderbilt has partnered with the NCFDD to provide professional development, training and mentoring along with resources that are broadly applicable across many disciplines.
Faculty who are interested in taking advantage of the university's institutional membership and associated benefits may register on the Vanderbilt page of the center's website.
Contact Chelsie Whitelock with questions, concerns or suggestions for the new site or comments on the PRS program.