Media Inquiries
Latest Stories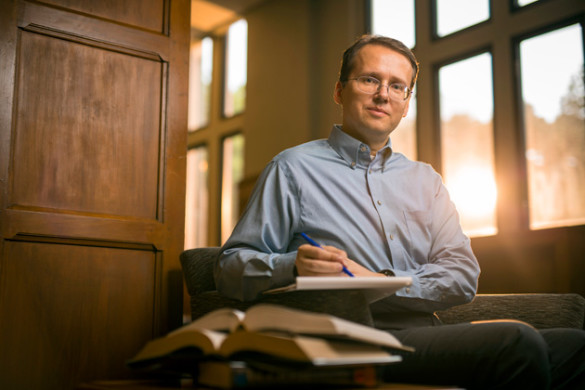 The contentious 2000 U.S. presidential election had a significant influence on the direction of Professor of Economics Mattias K. Polborn's research.
"As a Ph.D. student, I had worked on problems in insurance economics, but when I was a postdoctoral fellow at the University of Western Ontario, I watched from afar all of the strategic moves between the Bush and Gore campaigns regarding ballot recounts, the courts and more," Polborn said. "I made up my mind that political economics—the field that straddles the line between economics and political science by building mathematical models to explore political issues—would become my prime area of focus."
Polborn was born and raised in Munich, Germany. He earned his doctorate in economics at the University of Munich, where he was awarded a dissertation prize for his thesis. He taught at his alma mater and Western Ontario before accepting a position at the University of Illinois at Urbana-Champaign in 2003.
Polborn is interested in how political institutions affect the "political equilibrium"—in particular, the competition between candidates in elections. "Congress has an approval rating around 10 percent because the parties are so polarized, and the two major parties selected presidential candidates who are very unpopular with most Americans," he said.
"In economics, we generally believe that competition in markets produces good results for society, such as low prices and good quality," he continued, "and when we observe a market where that is not the case, we want to understand why. [rquote]It is quite clear that the political system is not producing optimal results, but it is less obvious what the institutional problem is and how to fix it."[/rquote]
Polborn uses game theory—a mathematical method for analyzing strategic situations that has long been applied in economics to understand competition between firms in different markets—to understand political competition. For example, he has applied this theory to better understand how the sequential presidential primary system works and what would happen if it were replaced by a national primary held simultaneously in all states. Currently, he is working on a theory that explains how interactions between elections in different congressional districts lead to self-reinforcing polarization.
In addition to teaching graduate-level classes on political economy and game theory, Polborn will organize a new seminar series with external speakers on political economy.
"I am excited to be at Vanderbilt, which is the perfect place for my work thanks to stellar departments in both economics and political science," he said.
View the complete list of new university faculty for 2016-17.
View the complete list of new medical faculty for 2016.