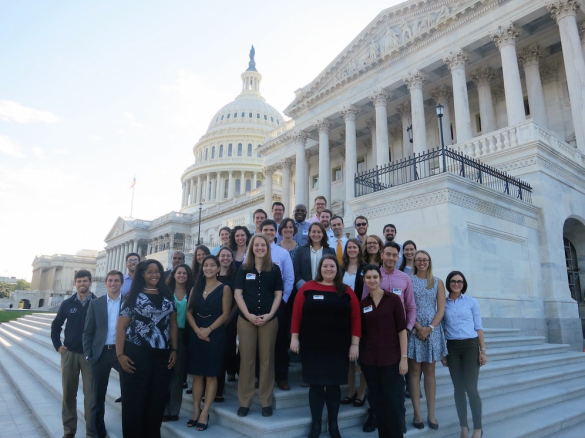 On Oct. 13-14, 28 Vanderbilt undergraduates, Ph.D. candidates and postdoctoral scholars spent their fall break in Washington, D.C., participating in the third annual Federal STEM Policy and Advocacy seminar hosted by Vanderbilt's Office of Federal Relations and Vanderbilt University Medical Center's Office of Federal Relations in partnership with the School of Engineering, the Graduate School, the School of Medicine's Biomedical Research Education and Training Office and the Career Center.
The seminar agenda featured eight panels with 21 speakers, including eight Vanderbilt alumni. The conference gave students a broad introduction to science policy by addressing both the history of federal support for science and the current trends in federal funding for science. Conference participants also learned about career opportunities in federal science policy, meeting with professionals in the executive branch, legislative branch and advocacy community who primarily focus on science issues. The program is specifically designed to demonstrate how individuals with a scientific background can engage with the government sector, either as a federal employee or as an advocate.
"Watching students at all levels actively learn about the importance and process of advocacy and where their research funding comes from is inspiring." said Christopher Rowe, associate professor of engineering management, who attended the event for the second time. "Our Federal Relations staff put together an outstanding event, and I look forward to more students gaining this level of insight and placing more STEM advocates in Washington, D.C."
As in prior years, the seminar featured an interactive session where students participated in a mock congressional conference committee for the spending bill that funds many science-related agencies. They role-play the parts of senior legislators to produce an agreement that sets funding levels and policy priorities for the coming year while avoiding a presidential veto.
"The case study gave me a feel for how individuals must compromise to make policy decisions. It was a fun and active session that got me thinking about how I would handle making those compromises every day in order to move projects along," said Nora Foegeding, a Ph.D. student in Cell and Developmental Biology.
New this year was a presidential election-focused session, which gave students the opportunity to hear from Vanderbilt alumnus Sam Feist, CNN's senior vice president and Washington Bureau chief. A networking dinner also allowed for students and postdocs to have informal conversations with Vanderbilt alumni in the Metro D.C. area working in science policy.