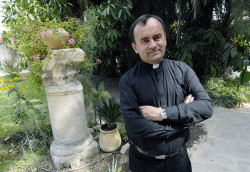 Father Patrick Desbois, a Roman Catholic priest who has devoted his life to researching the Holocaust, fighting anti-Semitism, and furthering relations between Catholics and Jews, will give the keynote address Tuesday, Oct. 25, for the 39th annual Holocaust Lecture Series at Vanderbilt University.
The grandson of a French soldier held prisoner during World War II in the Nazi prison camp Rawa Ruska on the Poland–Ukraine border, Desbois in 2004 began researching the stories of Jews, Roma, and other victims murdered in Eastern Europe during World War II by Nazi mobile killing units, the Einsatzgruppen. These systematic mass killings, which began before the gassings at Nazi concentration and extermination camps, were a little-known chapter of World War II and the Holocaust.
[lquote]Desbois founded an organization, Yahad-In Unum, dedicated to locating the mass graves of Jewish victims of the Nazi mobile killing units[/lquote], and has written about his daunting work in the book The Holocaust by Bullets: A Priest's Journey to Uncover the Truth Behind the Murder of 1.5 Million Jews. Last year Desbois and his work also was the subject of a CBS News story titled "The Hidden Holocaust" on 60 Minutes.
Desbois will sign copies of his award-winning book at 6:15 p.m. in the lobby of Langford Auditorium at Vanderbilt. His lecture, which is free and open to the public, begins at 7 p.m. in the auditorium.
Currently, a traveling exhibit, Holocaust by Bullets, based on Desbois' work is on display at The Temple in Nashville through Thursday, Nov. 3.
The Holocaust Lecture Series at Vanderbilt—the longest-running program of its kind held at U.S. universities—benefits from the continuing collaboration and relationship between the Office of the University Chaplain and Religious Life at Vanderbilt and the Tennessee Holocaust Commission. The THC has had an office within the university's religious life office since 1984, and has partnered with Vanderbilt to help bring survivors, scholars and noted speakers to campus to foster knowledge and understanding about the Holocaust.