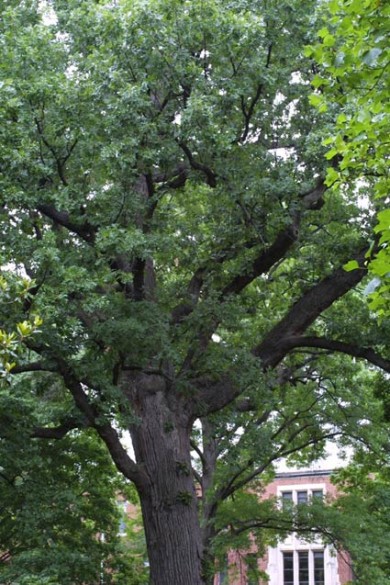 Vanderbilt University's Bicentennial Oak has been recognized as a Landmark Tree by the Tennessee Urban Forestry Council. The designation is given to Tennessee trees that are "commonly recognized as an established and familiar feature of the community or can be confirmed as a significant part of the community's heritage."
The Bicentennial Oak is the only tree on the Vanderbilt campus known to predate the university. It grows just south of the existing "Old Central" building, which was originally a residence on a farm purchased in 1874 by Bishop Holland McTyeire to serve as the site for construction of the university. At that time, the oak stood with the farmhouse at the top of a nearly treeless hill. The oak has been a landmark throughout the history of the university as other trees and buildings have grown up around it.
The Bicentennial Oak is one of the three largest trees on campus, with a diameter of 149 centimeters (almost 5 feet) and an impressive 30-meter (98-foot) crown spread, which makes the tree actually wider than its 25-meter (82-foot) height.
In 1976, the Bicentennial Oak was recognized as being more than 200 years old with the placement of a plaque at its base. Subsequently, it was known as "the Bicentennial Oak." In 1994, it was featured in The Trees of Vanderbilt. The Bicentennial Oak also boasts its own webpage.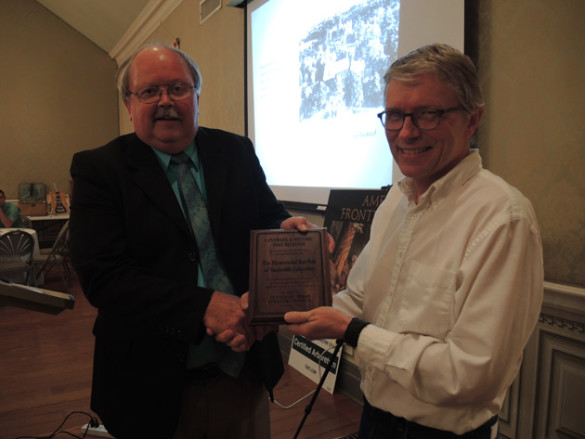 To learn more about the trees of Vanderbilt, visit the Vanderbilt Arboretum website or follow the Vanderbilt Arboretum on Twitter.