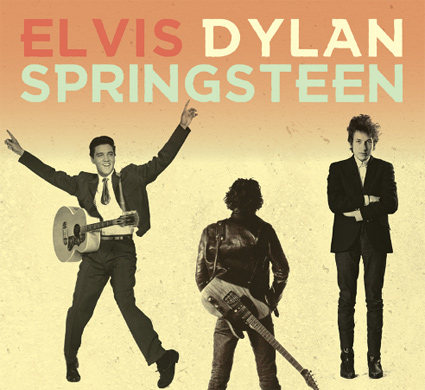 The biographers of Bob Dylan, Elvis Presley and Bruce Springsteen will get together for a "free-ranging discussion" about those artists and American culture during a forum at Vanderbilt University.
Peter Ames Carlin, Peter Guralnick and Elijah Wald will converse on Thursday, Oct. 27, in Sarratt Cinema in the Sarratt Student Center on the campus of Vanderbilt University. Jefferson Cowie, James G. Stahlman Professor of History at Vanderbilt, will moderate.
The 7:30 p.m. event is free. The community is encouraged to attend.
"Expect a free-ranging discussion on the lives and influences of Bob Dylan, Elvis Presley and Bruce Springsteen," Cowie said. 'We'll explore and compare a wide variety of themes – from faith and rebellion to gender and race. [rquote]These pivotal artists share a central place in rock history as well as unique senses of destiny."[/rquote]
Carlin has penned biographies of Springsteen, Paul McCartney and Paul Simon. Guralnick has written books about Sam Phillips, Sam Cooke and Elvis Presley. Wald has written about Bob Dylan and blues music.
Cowie, the James G. Stahlman Professor of History, is the author of The Great Exception: The New Deal and the Limits of American Politics, a broad-stroke reinterpretation of 20th-century American politics that was published in January. Another book, Stayin' Alive: The 1970s and the Last Days of the Working Class, draws together a combination of labor, politics and popular culture into a narrative about the decline of class in American political culture.