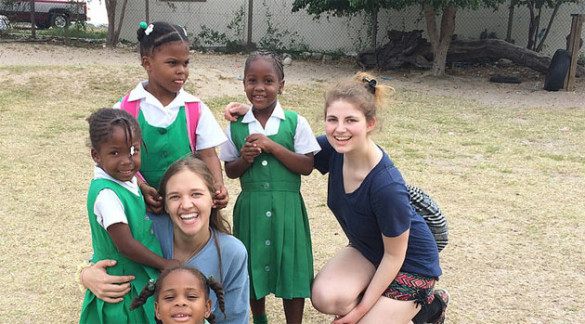 Vanderbilt's Alternative Spring Break program has been named the national Program of the Year for 2016 by Break Away, a nonprofit organization that promotes the development of quality alternative break programs through training, assistance and the connection of campuses and communities.
The recipient of the Program of the Year award is chosen based on its commitment to developing student leadership, building active citizenship on campus, and a true dedication to quality alternative breaks.
Vanderbilt Alternative Spring Break is a student-run community service organization whose mission is to promote critical thinking, social action and continued community involvement by combining education, reflection and direct service on the local, regional, national and international levels, according to the Vanderbilt ASB mission.
In the last year, Vanderbilt ASB expanded to the most sites in program history: 42 total, with 39 domestic and three international sites. ASB is the largest student service organization at Vanderbilt. Some 496 undergraduates went on ASB trips in 2016, which is 13.88 percent of the Vanderbilt undergraduate population.
"Being recognized with this honor represents a meaningful achievement and adds luster to this remarkable institution," Chancellor Nicholas S. Zeppos wrote in a letter to Vanderbilt ASB leaders. "I hope you know how energized and inspired I am by the important and transformative work ASB brings to our mission."
Vanderbilt's ASB program is regarded as the oldest and one of the largest student-run travel programs of its kind in the country, widely emulated on other college campuses. Its roots go back to 1986, when Susan Ford Wiltshire, a longtime classics professor at the university, challenged students in the Omicron Delta Kappa honor society to organize a week of service as an alternative to more traditional spring break activities.
A small group of students took up Wiltshire's challenge, and the first spring break trip took place in March 1987. Seventy-five students applied to work at one of four sites: with Cambodian refugee families in Nashville, at Roses Creek in East Tennessee, at a Sioux Indian reservation in Dupree, S.D., and in Juarez, Mexico.
In 1991, two of those pioneering students, Michael Magevney and Laura Mann—by then alumni—founded Break Away, which operated for nearly a decade at Vanderbilt. The national nonprofit now serves as an umbrella organization for Alternative Spring Break efforts at universities across the country.
Vanderbilt ASB is led by a 12-member student board that coordinates the entire program, including logistics and paperwork, site placement processes, determining site costs and developing budgets, site contact maintenance and establishment, educating all participants, recruitment and media relations, hosting ASB events, and more.
Vanderbilt ASB is advised by Erika Larson and the Office of Active Citizenship and Service.
"The Alternative Breaks program at Vanderbilt has been a strong source of fulfillment for both students and community partners," Larson said. "Students return from the program with a new sense of confidence in addition to knowledge that allows them to be better advocates for the issues they care about. For community partners, we receive positive feedback by committing to future years or actual letters of appreciation for the partnership."
For more information about Vanderbilt Alternative Spring Break, visit the organization's website.