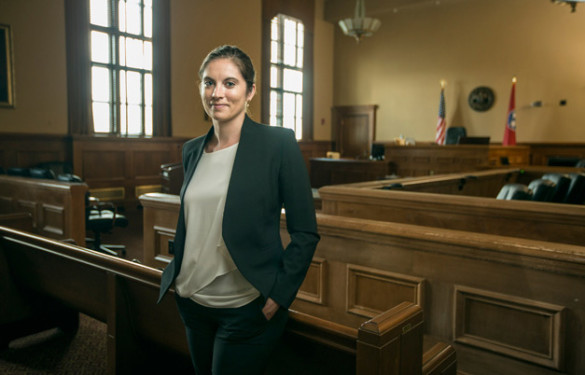 While the biggest legal questions are debated before the U.S. Supreme Court, Sara Mayeux is more interested in what happens in less prestigious settings.
"I think criminal courts are inherently interesting places," said Mayeux, who began teaching at Vanderbilt Law School as an assistant professor this fall.
"The Supreme Court cases you read about sort of trickle down while daily life goes on in lower courts," she said. "(Those cases) are usually about people who are on the margins of society. But that's the setting where a lot of these big questions come up about people's rights and about liberty and what government can and can't do."
Mayeux arrives at Vanderbilt following a Sharswood Fellowship at the University of Pennsylvania Law School. She is a graduate of Stanford Law School and is expected to receive her doctorate from Stanford's history department this fall.
"Sara Mayeux is a talented and promising scholar of criminal and constitutional law," said Chris Guthrie, the John Wade-Kent Syverud Professor of Law and dean of Vanderbilt Law School. "She will be an important contributor to our criminal justice, law and government, and social justice programs, and she will also add to Vanderbilt's trans-institutional depth in legal history."
At one time, Mayeux aspired to be a public defender, but her love of history was also strong. "[rquote]As I was going through law school, I realized that I could combine law with my interest in history," she said.[/rquote]
Her dissertation and planned first book is a history of the public defender in the United States. She believes many of these public servants wouldn't be needed if society handled social problems more effectively.
"For problems such as drugs and poverty, the first instinct seems to be to criminalize it and handle it through the justice system," she said. "The fundamental problem is not so much about the law but about the politics of these issues and the overuse of criminal law to begin with."
Born and raised in Atlanta, Mayeux has lived in Philadelphia; Stanford, California; Cambridge, Massachusetts; New York; and San Francisco pursuing work experience and education.
"I grew up in the South and look forward to getting involved in social justice and criminal justice issues in the community here," she said. "Also, my sister lives in Nashville, and I like the music and the arts that are here."
View the complete list of new university faculty for 2016-17.
View the complete list of new medical faculty for 2016.