The media focus on working-class white men who support Donald Trump's presidential campaign ignores the insecurity felt by other groups who might be drawn to him, says a cultural, gender and race expert from Vanderbilt University.
"We know that Donald Trump will probably get 40 percent of the vote, and I'm convinced that it's not just the white working class who find aspects of the Trump agenda compelling," said Tracy Sharpley-Whiting, the Gertrude Conaway Vanderbilt Distinguished Professor of African American and Diaspora Studies and French at Vanderbilt and the director of the Callie House Research Center for the Study of Black Cultures and Politics.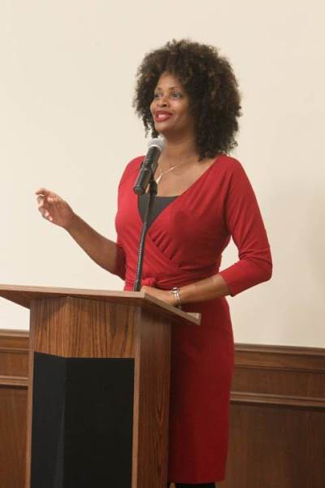 There are lots of conversations about voter anger, especially that of working-class whites, Sharpley-Whiting said. She prefers "insecure" to "angry."
"We must look beyond … angry white men and look at white women and even the higher income population who might be worried about the Democrats' $250,000-plus income tax plan," Sharpley-Whiting said. "That impacts those who might have ideas about aspirational wealth."
"There are actually people who think $250,000 annually is not necessarily enough when we think about tax breaks – voters who are upper-class, who are thinking about their portfolios," she said.
Insecure voters
A more nuanced discussion is needed about voter anger or insecurity, she said.
"A lot of people are angry, and so what they will do is exercise their anger at the polls," she said. "I'm sure Latinos are quite angry at how they're being … characterized in certain ways."
"I think we need a more multicultural discussion of anger, and we also need a more gendered discussion of anger and understanding how that might impact the election," Sharpley-Whiting said.
Locker room talk
The specter of black athletes being interviewed about "locker room talk" following the news of Trump's alleged harassment of women strikes Sharpley-Whiting as ironic.
"One thing I thought was interesting was (Trump) calling (offensive statements) 'locker room talk,'" Sharpley-Whiting said. "Then of course they interview a slew of black athletes. They go directly to black athletes to ask about locker room talk that a white man just espoused."
Expertise
Sharpley-Whiting has testified before a congressional hearing on stereotypes and degrading images of women in popular culture. She won the Emily Toth Award for Best Single Work in Women's Studies for her book Pimps Up, Ho's Down: Hip Hop's Hold on Young Black Women. She has written several books on critical theory and race, including serving as editor of The Speech: Race and Barack Obama's 'A More Perfect Union' (SUNY Press, 2009).