Emeritus Professor of Chemistry Mark Jones has died
by
David Salisbury
Oct. 11, 2016, 3:45 PM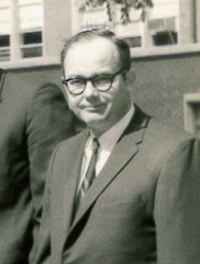 Vanderbilt Professor of Chemistry, Emeritus, Mark M. Jones died Oct. 7 at 88 after an accident and brief illness.
Jones received his Ph.D. in inorganic chemistry from the University of Kansas in 1948 and held positions of postdoctoral researcher and instructor at the University of Illinois until 1955, when he joined the U.S. Army and served for two years. In 1957, he joined the chemistry department at Vanderbilt as an assistant professor; became a full professor in 1964; and gained emeritus status in 1998. He served as department chair from 1970 to 1976.
He is survived by his wife of 64 years, Shirley Gleason Jones; sons Mark G. Jones (Wendy) of Sandy Springs, Georgia, and Ted I. Jones (Karen) of Memphis; granddaughters Lisa E. Jones, Emma-Rose Y. Jones and Elizabeth H. Jones; and grandsons Clifford P. Jones and Grant M. Jones.
A service honoring his life will be held at 1 p.m. Thursday, October 13, at Marshall-Donnelly-Combs Funeral Home, with visitation prior to the service from 11 a.m. to 1 p.m. A private family committal will be held following the service.