Media Inquiries
Latest Stories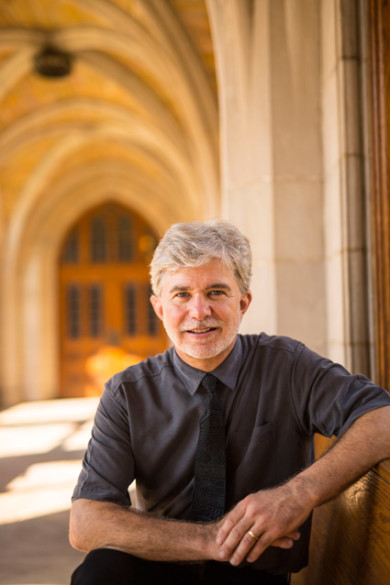 Joerg Rieger, who grew up in southwestern Germany, began his path to teaching at the university level when he enrolled in the Reutlingen School of Theology, affiliated with the United Methodist Church.
While he enjoyed a rigorous curriculum that included the history and philosophical components of religious traditions, he wanted to focus on more than the intellectual ideas of theology.
"I wanted to study the social context of theology, including its impact on everyday struggles for economic justice," Rieger said. "I am interested in the misuse of power in religion, economics and politics. Religion can be a force for good, but it can also have a negative effect. You have to understand the problems if you want to find constructive solutions."
Rieger defines justice as the search for the right relationships. "Religion can play an important role in changing our relationships for the better," he said.
After receiving his master of divinity from Reutlingen, Rieger pursued additional studies at Duke University, where he earned a doctorate of philosophy in religion and ethics in 1994.
"There were academic reasons for my move to the United States," Rieger said. "I was able to push the envelope more as a scholar in America than I could have in Germany." Also, Rieger had fallen in love with an American who became his wife, Rosemarie Henkel-Rieger, before they enrolled in Reutlingen and the nearby University of Tübingen to earn degrees in theology and biology, respectively.
Rieger previously held an endowed chair at Southern Methodist University's Perkins School of Theology. He holds the Cal Turner Chancellor's Chair of Wesleyan Studies at Vanderbilt Divinity School, whose mission is aligned with his interests.
"[rquote]The VDS community is engaged in diverse religious communities, social issues and public life, and our professors conduct research out of this engagement,"[/rquote] he said. "They are deeply concerned with how the experiences that we call 'the pressures of life' affect communities and society at large."
Rieger has written and edited more than 20 books, including Christ and Empire: From Paul to Postcolonial Times and No Rising Tide: Theology, Economics, and the Future. His latest book, United We Are a Force: How Faith and Labor Can Overcome America's Inequalities, was co-authored with Henkel-Rieger, who is a community organizer and activist. Rieger's books have been translated into various languages.
In addition, he is an ordained elder in the United Methodist Church.
View the complete list of new university faculty for 2016-17.
View the complete list of new medical faculty for 2016.