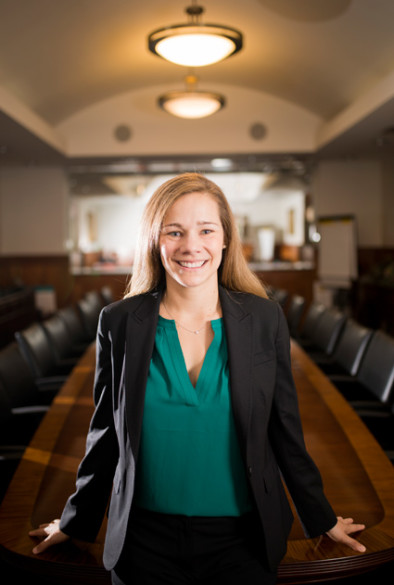 In 2008, Megan Lawrence had a front-row seat to the financial crisis that triggered the Great Recession. An electronic trading analyst at Merrill Lynch in New York, she saw her company nearly go bankrupt like fellow Wall Street firms Bear Stearns and Lehman Brothers, only to receive a last-minute reprieve in the form of a $50 billion acquisition offer from Bank of America.
"I'll never forget where I was when I found out," she recalled. "I was walking by the grocery store near my apartment in New York City when I got a text from my co-worker saying, 'Looks like we're now Bank of America.'" Lawrence remained at the newly merged Bank of America Merrill Lynch through 2010 and along the way witnessed a fascinating case study in how two companies with similar functions and resources but different cultures were able to integrate.
"Being there during that time was very helpful for my career path, because I was able to see a lot of different facets of a business in a short period of time," said Lawrence, who earned her doctorate in business strategy from Harvard in spring 2016. "[rquote]It's very valuable to be able to come to the classroom and tell students I experienced those things firsthand."[/rquote]
As an assistant professor of strategic management at the Owen School, Lawrence studies organizational practices at companies. By understanding the systematic ways in which practices differ from one organization to another, as well as why they differ, she hopes her research will help companies learn to adapt and renew themselves as they look for long-term success in changing markets. She is excited to explore these topics and others in the core strategy course she will begin teaching in early 2017.
"Vanderbilt offered me everything I was looking for in a faculty position: an environment that's supportive of my research, the ability to teach smart MBAs in the classroom, and opportunities to collaborate with others on campus and in the wider Nashville business community," she said.
Plus, there is one other advantage to landing at Vanderbilt, Lawrence said—it is closer to home in more ways than one. She hails from Peachtree City, Georgia, and her husband, Bradley Lawrence, BS'09, is a Kentucky native and Peabody College alumnus. They both say Nashville is just the sort of place they want to raise their infant son.
"We came here knowing that we would have a good community around us," she said. "That was an extra bonus."
View the complete list of new university faculty for 2016-17.
View the complete list of new medical faculty for 2016.