Rooted Community Health wins football 'Greenest Group on Campus' award
Oct. 5, 2016, 8:00 AM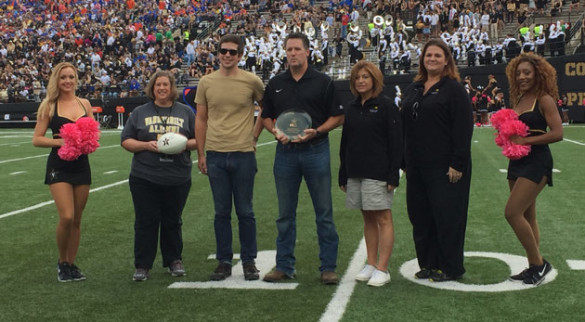 Rooted Community Health has been named winner of the 2016 Vanderbilt Football Sustainability Competition.
The group celebrated its title of "Greenest Group on Campus" at the Vanderbilt vs. Florida game Oct. 1 with a catered tailgate event, tickets to the game, an autographed football from Coach Derek Mason, and an on-field award ceremony during the game. Accepting the award on behalf of the group was John Compton, program coordinator for Rooted Community Health.
The sustainability competition, presented by Waste Management, Vanderbilt Athletics and the Sustainability and Environmental Management Office (SEMO), invited all Vanderbilt groups, teams, departments, classes and campus organizations to compete for the title of "Greenest Group on Campus" by detailing what sustainable actions their group routinely implements to reduce, reuse or recycle; save energy or water; use mass transit and alternative transportation options; or any other innovative sustainability programs within their department or organization.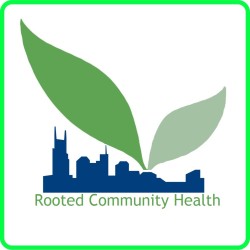 Rooted Community Health, a VU/VUMC initiative within the Center for Biomedical Ethics and Society that explores the intersection of human health, ecology and sustainability, was recognized for its efforts to bring together members of Vanderbilt University, Vanderbilt University Medical Center and the Nashville community to encourage and enhance the community's health through community engagement, scholarship and research. Rooted Community Health members are also members of two national collaboratives: the Teaching Kitchen Collaborative and the Menus of Change university research collaborative.
For more information about Rooted Community Health, visit their website. Learn more about Waste Management and how they encourage us to "think green" on its website. For more information about SEMO or how you can participate in future sustainability competitions, visit the SustainVU website or email sustainvu@vanderbilt.edu.
Contact: Sustainability and Environmental Management Office, (615) 322-9022