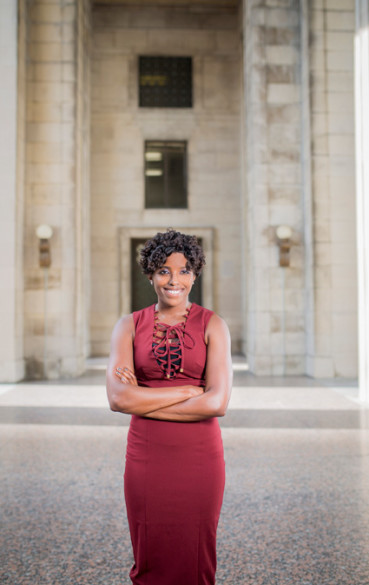 There's one thing we already know about the chief executive who will follow President Obama into the White House, according to Sharece Thrower, Vanderbilt's newest presidential scholar. "With every president, there's been an accumulation of a little bit more power," said the assistant professor of political science recruited from the University of Pittsburgh. "Each president has a more expansive reading of the Constitution over time."
Thrower has more than 10 studies in various stages of development seeking to understand how American presidents hold, exercise and expand their power. It's a fascination that dates back to her childhood in the Columbus suburb of Reynoldsburg, Ohio, growing up the daughter of a fourth-grade teacher and a choir director. "I guess I was always interested in politics," she said.
Given that fact, Thrower assumed law school would be her destination after graduating from Ohio State University.
"In the summer between my junior and senior years in college, I got involved in the Summer Research Opportunities Program at Ohio State," she said. "It got me interested in doing research, and the program was tailored for people who wanted to go to grad school and pursue a Ph.D. It worked, and after that I changed direction."
After earning her Ph.D. in politics from Princeton University, Thrower accepted a post as assistant professor of political science at Pittsburgh. She taught and did research there for three years.
"I was very happy at Pitt. I loved it there," Thrower said. "[rquote]But to be honest, Vanderbilt had always been a dream school to me."[/rquote]
Alan Wiseman, associate professor of political science at Vanderbilt, said he had been following Thrower's progress "since she knocked on my door as a rising senior at Ohio State," where Wiseman formerly taught.
"I'm thrilled that we were able to lure Sharece away from Pitt," Wiseman said. "She is well-positioned to be one of the strongest younger scholars studying the American presidency and executive politics. Students at the undergraduate and graduate levels will benefit immensely from having her in the classroom." Thrower's research has already appeared in the American Journal of Political Science, The Journal of Law, Economics, and Organization and Presidential Studies Quarterly.
There's just one area of university life at Vanderbilt that gives her pause.
"I'm a big Ohio State football fan," she said. "I was indoctrinated at a young age, so that's my non-academic passion."
View the complete list of new university faculty for 2016-17.
View the complete list of new medical faculty for 2016.