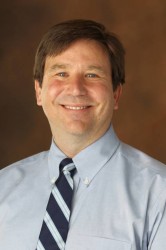 Vanderbilt University political scientist Marc Hetherington will offer his expert analysis on one of the most contentious presidential campaigns in U.S. history at the Williamson County Public Library Tuesday, Oct. 11.
Hetherington will "set the scene" for this polarized election between two candidates who share high unfavorable ratings—Hillary Clinton and Donald Trump—when he speaks at 6 p.m. at the main library.
His areas of expertise include voting, public opinion polls, media coverage during a campaign, anti-government campaign rhetoric and how trust in government affects elections and public policy. In addition, some of Hetherington's research looks at how one's preferred parenting style affects one's political persuasion.
In September, the American Political Science Association awarded Hetherington the Philip E. Converse Book Award for Authoritarianism and Polarization in American Politics, a book he co-wrote about the causes and effects of political divisiveness.
Hetherington, who has done several national media interviews about the 2016 elections, is also the co-author of Why Washington Won't Work: Polarization, Political Trust and the Governing Crisis. The book received a prestigious award this summer by the International Society of Political Psychology.
Why Washington Won'r Work documents how profoundly negative feelings and deep distrust of the other side — not deep ideological differences — are keeping Republicans and Democrats in the electorate from encouraging their representatives in Congress to seek compromise.
Hetherington's talk is part of the series "Vanderbilt at the Library," in which the university's professors and community partners share their expertise monthly with the public on a wide range of initiatives.
A reservation is required for each talk. For more information, email Lynn Maddox or call Community, Neighborhood and Government Relations at 615-343-0700.