A reunion 50 years in the making made a significant impact on first-year students at the 10th annual Lawson Lecture Sept. 27. While Vanderbilt Commodore basketball recruits Perry Wallace and Godfrey Dillard had some idea of what their lives might be like as African American students arriving on campus in 1966, the reality was more challenging than they imagined and shaped the men they would become. Wallace and Dillard shared their stories with the first-year students Tuesday night at Langford Auditorium.
The university invited Wallace and Dillard to share their stories as lessons on diversity, inclusion, equity and resilience, and as a springboard for discussions about how far the university has come on these issues and how far it still has to go. Last fall, in an address to the faculty, Chancellor Nicholas S. Zeppos said diversity and inclusion on campus is "a project of great importance" and is "the most important thing I'm going to be spending my time on." At the same time, he announced the formation of the Diversity, Inclusion and Community committee that has since done its work to assess the university's progress and provided its recommendations for continued improvement to the chancellor.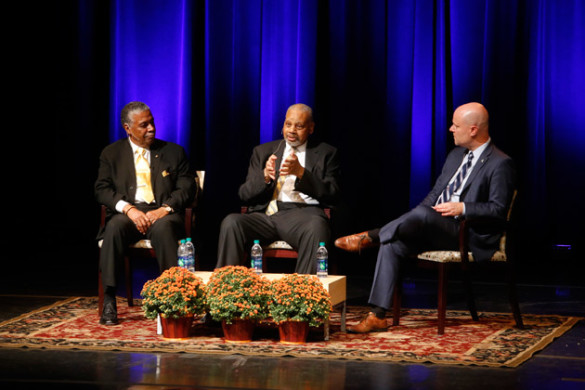 Zeppos and Vanessa Beasley, dean of The Martha Rivers Ingram Commons first-year student community, opened the Tuesday night lecture and noted the 50-year anniversary of the two athletics and civil rights pioneers' arrival at Vanderbilt, and that Tuesday night was the first time the men had been together on campus in 50 years.
The first-year students listened with rapt attention as Wallace and Dillard talked about finding the strength to overcome the racial prejudice, isolation and bigotry they experienced on campus and on the road as athletes in the Southeastern Conference. The men brought to life the students' shared reading of Strong Inside: Perry Wallace and the Collision of Race and Sports in the South. The book, written by Vanderbilt alumnus Andrew Maraniss, was chosen as this year's Commons Reading – a text the students are requested to read prior to their first semester at Vanderbilt as a foundation for a meaningful dialogue that begins during orientation and continues throughout the year.
The book chronicles Wallace's time as an engineering major at Vanderbilt and the first African American to play varsity basketball in the SEC. Wallace and Dillard, who were roommates, formed a lasting bond and friendship that exists today.
"Vanderbilt broke me, wiped out my identity as an athlete, so I went home and rethought what I wanted to do," said Dillard, who left Vanderbilt during his junior year. "[rquote]You are going to face a similar challenge. You will be defeated. The question is, are you going to pick yourselves back up? We picked ourselves up off the ground – that's what we did,"[/rquote] Dillard said of himself and Wallace.
Dillard, who said his experience at Vanderbilt drove him to "make America right," is an attorney specializing in civil rights and international law. He has served as a judge, a law professor and as a United States diplomat to the Democratic Republic of the Congo. He was lead counsel in the University of Michigan affirmative action case heard in the U.S. Supreme Court.
After graduating from Vanderbilt, Wallace went on to receive a law degree from Columbia University and work in the Justice Department. He served on the Environmental Policy Advisory Council of the Environmental Protection Agency and was a professor at Howard University and the University of Baltimore before joining the faculty at American University in 1993 as a law professor specializing in environmental law, corporate law and finance.
"In my family, education was so very important. I respected the power of education and learning. I had seen as a little boy illiterate black people helpless against society's mechanisms. … I wanted to spill the beans, bring the light … it was about being empowered, protecting rights and making sure America works for them as promised," Wallace said of his drive to finish college and pursue a law career.
Dillard, who remarked that he is "convinced it is not the same Vanderbilt" after walking around campus earlier in the day, also said that the "sacrifice and the pain, humiliation and embarrassment I suffered was worth it," when looking at the racially diverse audience of first-year students and their faculty and student mentors.
The students also had the opportunity to engage with Wallace and Dillard. They posed questions to them about a number of topics, including police misconduct, Black Lives Matter, affirmative action, parallels today to the Civil Rights Movement and the nature of activism.
Dillard urged students that they have to decide "on what side of history are you going to be on" and whether they are going to be "part of the problem or part of the solution" in response to questions about effecting change through activism. Wallace told students that the "journey toward fashioning a solution is personal." He encouraged them to "tailor-make your approach to solutions" and to be open-minded and "willing to search."
At the close of the event, Beasley challenged the students to think about how their stories will be written 50 years later and how they could be worthy of Wallace's and Dillard's examples.
Earlier in the day, Wallace and Dillard participated in a lunchtime event at the Bishop Joseph Johnson Black Cultural Center and had dinner with a small group of students as well as the chancellor, Vice Chancellor and Athletics Director David Williams and Beasley at the dean's residence at The Ingram Commons. Wallace also met with students from Next Steps, a two-year nonresidential certification program at Vanderbilt for students with intellectual disabilities. Vanderbilt Athletics awarded Next Steps the Perry Wallace Courage Award earlier this year.