Media Inquiries
Latest Stories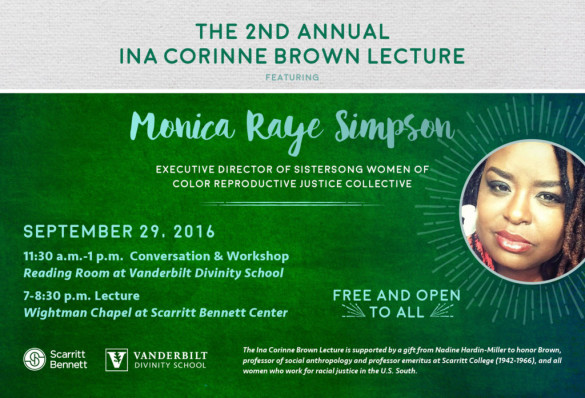 Monica Raye Simpson, executive director of the SisterSong Women of Color Reproductive Justice Collective, will hold a public conversation and workshop at Vanderbilt Divinity School Sept. 29.
The lunchtime event with Simpson will be from 11:30 a.m. to 1 p.m. in the Divinity School's Reading Room. That evening Simpson will deliver the Ina Corinne Brown Lecture at the Scarritt-Bennett Center. Simpson's lunchtime talk and evening lecture are part of the Fall 2016 Transformative Justice series.
A native of rural North Carolina, Simpson has organized extensively against human rights violations, reproductive oppression, the prison industrial complex, racism and intolerance. She is also committed to birth justice as a certified doula.
Simpson was an early activist for LGBT rights in North Carolina and the first person of color hired at the LGBT Community Center in Charlotte, North Carolina.
The SisterSong Women of Color Reproductive Justice Collective is a national network of 80 local, regional and national grassroots organizations based in Atlanta. SisterSong strives to strengthen and amplify the voices of indigenous women and women of color to ensure reproductive justice through securing human rights.
Simpson couples her activism with artistry and has released her first live album, "Revolutionary Love," where she blends her gospel roots and passion for social justice. She was named a "New Civil Rights Leader" by Essence magazine and was chosen as one of Advocate magazine's "40 under 40 leaders."
Co-sponsors of Simpson's presentation are the Divinity School's Carpenter Program in Religion, Gender, and Sexuality, Office of Women's Concerns, SHADES, Black Seminarians, LAS and GABLE.
The event is free and open to the public but registration is necessary. For more information, email Sha'Tika Brown or call 615-936-8456.