Media Inquiries
Latest Stories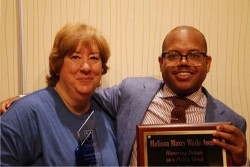 The Barkley Forum for Debate Excellence has honored Vanderbilt debate expert M.L. Sandoz for encouraging public debate by students of all ages.
Sandoz, director of forensics and senior lecturer of communication studies, was presented with the Melissa Maxcy Wade Award Honoring Debate as a Public Good at the Georgia State University National College Debate Tournament Sept. 19. The award recognizes individuals with ties to the debate community who are committed to using debate as a public good or encouraging and empowering others to do so, especially those who, like Wade, promote debate as a means to foster dialogue about difficult issues and to effect change in their communities. Sandoz is the first recipient, after Wade, of the award.
"I am so very honored to be recognized with this award," Sandoz said. "Melissa Maxcy Wade is one of the most respected leaders and role models in the debate community. [lquote]Of all the awards I have won during the course of my career, this one is the most meaningful and important to me[/lquote]. To be able to transport what we do in the classroom into the community for public good is an essential component of what I value in my work and what I want to give my students."
Ed Lee, senior director of debate for the Barkley Forum, presented the award. In his presentation speech, he noted that Sandoz had been like a second coach and mentor to him personally, in addition to her efforts in the community at large.
In addition to overseeing the Vanderbilt Debate Team, considered to be among the best collegiate teams in the nation, Sandoz has worked to support debate at every educational level. She has served in many positions in the Cross Examination Debate Association, including president, vice president and treasurer. She has organized evidence-based public debates at Vanderbilt, both through the intercollegiate Great Debaters series and by working with student organizations, to help students develop better-informed positions on a variety of issues. In October 2012, Chancellor Nicholas S. Zeppos awarded Sandoz the Chancellor's Cup, recognizing that she had made "the greatest contribution outside the classroom" to education and to the community.
Sandoz also has supported elementary, middle and high school debate teams and is one of the founding members of Free Speech the Movement — the Nashville Elementary and Middle School Debate Consortium. Starting with two Nashville elementary schools in the fall of 2011, the consortium has grown every year and has now expanded into middle schools. The students debate on issues relevant to them like classroom technology, recess and homework. The debates are evidence-based, encouraging young students to start researching early and to become more informed on issues that immediately affect and are important to them. These debates have been highly successful, with hundreds of people attending to watch the competitions and cheer the debaters on.
At the high school level, Sandoz has been active with Nashville Community Education and the Nashville Debate League since its inception to support debaters with training, technical support and competitive opportunities.
The Barkley Forum Center for Debate Education was founded in 2014 at Emory University.