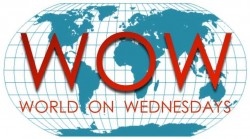 International Student and Scholar Services invites you to World on Wednesdays, which gives students, faculty and Vanderbilt community members the chance to engage with other parts of campus through presentations on topics that address and open discussion on a breadth of global issues and experiences.
Topic: "Unraveling Reconciliation Politics, Multi-religious Differences and International Intervention in Sarajevo"
The phenomenon of reductionist rhetoric by religious, political and international elites has affected local peace-building efforts and grassroots organizational understanding of reconciliation in Sarajevo following the war. Lauren Pak's independent research project identifies civil society organizations and actors actively engaging in grassroots reconciliation work in Sarajevo and what reconciliation means in practice. The greatest differences come between bottom-up and top-down approaches.
When: Wednesday, Sept. 28
Time: Noon–1 p.m. Lunch will be provided.
Where: Sarratt Student Center, Room 325/327
Questions: Contact derrick.m.stevens@vanderbilt.edu or isss@vanderbilt.edu.