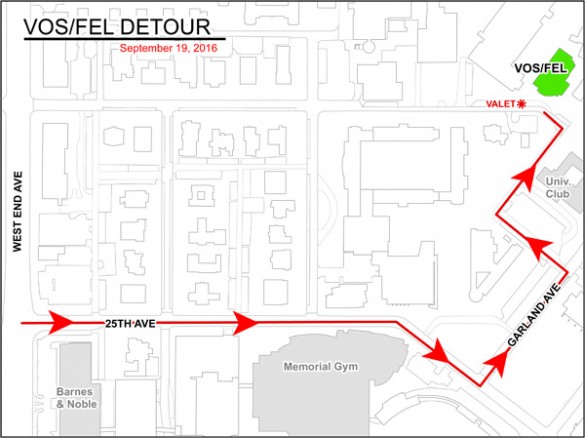 A project to install a new gas turbine at Vanderbilt's co-generation power plant will close a portion of 24th Avenue South adjacent to the power plant beginning Monday, Sept. 19.
24th Avenue South from Vanderbilt Place to the stop sign near the Office of the University Chaplain and Religious Life will be closed from Sept. 19 to just before Thanksgiving. Handicapped parking lots 11 and 63B will remain open, but they must be accessed from the Vanderbilt Orthopedic Surgery/Free Electron Laser (VOS/FEL) Building detour route through the University Club at Garland Avenue (see map above).
24th Avenue will re-open for one-way traffic at or before Thanksgiving (about Nov. 24). Metered Lot 63A, encompassed in the street closure, will be closed for the duration of the project, estimated to be completed on or around March 1, 2017.
If you have any questions concerning this project, please email Campus Planning and Construction project manager Hans Mooy.