Learn more about fire safety at Vanderbilt
by
Princine Lewis
Sep. 9, 2016, 6:31 PM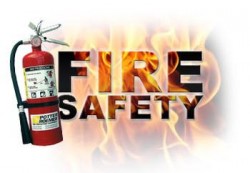 September is recognized as National Preparedness Month, which serves as a reminder that we all must take action to prepare—now and throughout the year—for the types of emergencies that could affect us where we work and live. Watch for a series of stories about emergency preparedness in MyVU during the month of September.
Vanderbilt University's Office of Emergency Preparedness, Fire and Workplace Safety urges students, faculty and staff to take the opportunity to learn more about the university's fire-prevention policies and fire safety protocols during National Preparedness Month in September.
"Fire prevention is everyone's responsibility. The university has established fire-prevention policies and regulations but cannot anticipate every possible scenario that might result in fire," says Emergency Preparedness Program Coordinator Jessamyn Davis. "Individual awareness among our community members and their ability to make informed safety decisions will also play a significant role in mitigating the potential for fire."
Davis offers Vanderbilt community members the following tips and information for preventing and responding to fires at the university:
Familiarize yourself with fire detection/suppression systems in your building, including fire extinguisher locations.
Be aware of all exits in your building, and know who to contact in the event of an emergency. Vanderbilt University Police Department (VUPD), with the Nashville Fire Department, will be the first responders to a fire on campus. To contact VUPD for an emergency, dial 911 from any campus phone line; call (615) 421-1911 from any cellphone; or contact VUPD through our free safety app, SafeVU.
Electrical Safety
Do not use damaged equipment or frayed electrical cords.
Report poorly maintained or damaged electrical equipment.
Arrange electrical cords so they are not a trip hazard or prone to damage by furniture or doors.
Minimize the use of extension cords and power strips. Avoid running extension cords under carpets or across doorways.
Avoid overloading outlets, and always follow manufacturers' instructions.
Fire Safety Systems at Vanderbilt
Fire alarm systems are installed in every building on campus. Fire suppression systems are installed in many campus buildings, including all residential and medical center buildings. Sprinkler system operation, activation of a fire alarm manual pull station, or the detection of smoke will activate a building's fire alarm system. The alarm systems warn occupants and also initiate notification of the Metro Nashville Fire Department, Vanderbilt Police, and Plant Operations or Plant Services.
Responding to a Fire
The Office of Emergency Preparedness has developed emergency guides to provide instructions for some of the emergencies that may occur on campus. The following fire safety information, which is also included in the guides, will help Vanderbilt community members respond properly in the event of a fire:
If you smell smoke, see a fire, or hear a fire alarm:
1. Immediately evacuate the building. Always use the stairs. Never use the elevators during a fire. Help individuals requiring assistance in evacuating.
2. If the fire alarm has not been activated, pull the manual fire alarm by the nearest exit.
3. Before opening doors, check for heat:
If the door is cool:
Open the door carefully, and proceed to the nearest exit.
Close doors behind you and leave lights on.
If there is light smoke, stay low and cover your face with a cloth (shirt, blouse, etc.) to filter out particles.
If the door is hot, do not open:
Seek another exit.
If you are on the ground floor, try to exit through a window.
4. If you are trapped in a room or an upper floor:
Dial 911 to report your building, floor, room number, and the number of people with you.
Prevent smoke from entering the room. If available, place wet towels or cloth material at the bottom of the door and cover any vents.
If the room begins to fill with smoke, you can open the window slightly. Never break the window because this might cause a chimney effect and help spread the fire.
5. Assist physically impaired individuals as needed:
Offer to guide those who are visually impaired.
Instruct individuals who are hearing impaired to evacuate with you. If you encounter a person in a wheelchair, assist him/her to a refuge point and instruct him/her to wait for Fire Department assistance.
Call 911 to report your building, floor and location of the person(s) needing evacuation.
♦  The first choice for a refuge point would be a widened stairway landing that will accommodate a wheelchair without impeding patrons as they exit. If no stairway refuge exists, then have them remain in a room with a window.
♦  Make every attempt to ensure they have a phone or cellphone available.
♦  Make note of the individual's exact location and continue to evacuate the building.
6. After you safely evacuate from the building, report to your designated rally point.
7. Report to your supervisor or designated point of contact and report:
The location of anyone who could not be evacuated.
The location and phone number of any mobility-impaired person you assisted.
Any problems you witnessed while exiting the building, such as hallways/stairs filling with smoke or blocked by fire.
8. DO NOT go back into the building until the Fire Department or the Vanderbilt University Police Department (VUPD) indicates that it is safe to do so.
To call the Vanderbilt University Police Department (VUPD) in an emergency:
Dial 911 from any campus phone.
Dial (615) 421-1911 from any other phone.
Fire Extinguisher Use
Do NOT attempt to put out a fire if it is larger than a small trash bin.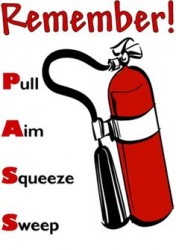 Fire can double in size in mere minutes, and normal fire extinguishers are designed to put out small fires. If you are not able to extinguish a fire with one extinguisher, evacuate the building immediately.
To use a fire extinguisher, remember the acronym PASS:
PULL the pin in the nozzle of the extinguisher.
AIM the nozzle of the extinguisher at the base of the fire.
SQUEEZE the handles together.
SWEEP from side to side, covering the fire.
Resources
SafeVU
Emergency Guides
National Fire Protection Association
Vanderbilt Fire Safety website