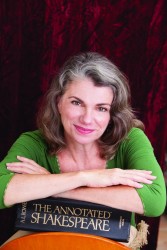 Denice Hicks will take the audience behind the scenes of the Shakespeare in the Park production of The Comedy of Errors when she lectures at the Williamson County Public Library Wednesday, Sept. 21.
Hicks, artistic director of the Nashville Shakespeare Festival, will also take questions from the audience during this free talk, which will be from 1 to 3 p.m.
Her talk is part of the series "Vanderbilt at the Library," in which the university's professors and community partners share their expertise monthly with the public on a wide range of initiatives.
For the first time in its 29 seasons of Shakespeare in the Park, the festival will bring one of its summer productions to Williamson County. The Comedy of Errors will run Sept. 29 through Oct. 2 at Academy Park, formerly the campus of Battle Ground Academy.
General admission to Williamson County Shakespeare in the Park is free to the public, with a suggested $10 per person donation. Preshow entertainment begins at 6:30 p.m., followed by the play at 7:30 p.m. More information is available by clicking on the festival's website.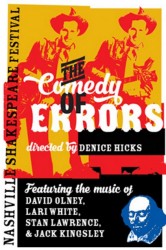 The Comedy of Errors, Shakespeare's shortest play, gets a uniquely local spin with original music by David Olney, Lari White, Stan Lawrence and Jack Kingsley. The show is one of the festival's signature works, as it is set in 1960s Nashville. This family-friendly performance is directed by Hicks, who has served in a variety of roles at the festival since 1990.
Educated at Point Park University in Pittsburgh, Hicks moved to Nashville in 1980 to perform at the former Opryland theme park. She was an original company member of the Tennessee Repertory Theatre, and was among the founders of both Darkhorse Theater and People's Branch Theatre.
An Ingram Fellowship award winner, she has edited and directed touring productions of Shakespeare's works, developed and facilitated workshops for students of all ages, and designed and implemented the Nashville Shakespeare Festival Apprentice Company Training and Shakespeare Allowed! programming. Her work has been critically praised by many publications, including The Tennessean, Broadwayworld.com and the Nashville Scene, from which she has received Best Actor and Best Director acknowledgments.
A reservation is required for each talk. For more information, email Lynn Maddox or call Community, Neighborhood and Government Relations at (615) 343-0700.