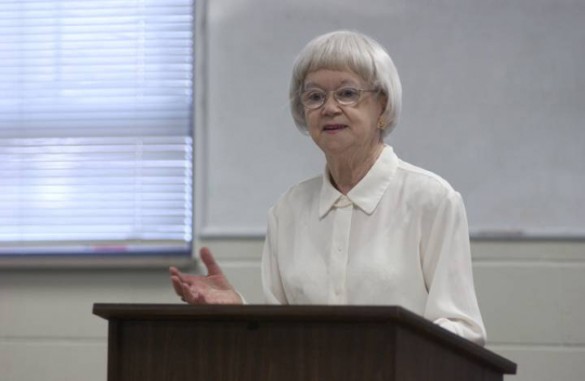 Jane Hepburn Barr, a beloved teacher at Vanderbilt Divinity School who taught popular seminars on women and church in society, died Aug. 7. A memorial service will be held Friday, Sept. 9, at 2 p.m. at the Mt. San Antonio Gardens retirement community in California, where she had resided in recent years.
Barr, 89, had retired to Claremont, California, in 1998 with her late husband, James Barr, Distinguished Professor of Hebrew Bible, emeritus, at Vanderbilt.
Jane J.S. Hepburn was born in 1927 in Perth, Scotland, to James and Catherine Hepburn. After graduating first in her class from Perth Academy, she enrolled at Edinburgh University. Hepburn met her future husband on the first day of the academic year. They received their masters' degrees in 1948 and were married two years later.
The couple spent two years in Tiberias, Israel, where he served as minister of the Church of Scotland. In later years, they enjoyed reminiscing about their experiences in Israel and the Middle East during the early 1950s.
James taught at various institutions, including Princeton Theological Seminary and Oxford University, before the couple moved to Nashville in 1989 to teach at Vanderbilt.
Jane became a lecturer in church history, offering two Divinity School seminars: Women in Church and Society to 500 C.E., and Women in Church and Society from 500 to 1400.
"[rquote]Her students often commented on how enormously valuable the courses were for enhancing their understanding not only of the various attitudes about women, but also of the degrees of freedom and influence enjoyed by women during late antiquity and the medieval period,"[/rquote] said Douglas Knight, Drucilla Moore Buffington Professor of Hebrew Bible, emeritus, at Vanderbilt.
Knight wrote in a biographical memoir of James Barr for the American Philosophical Society that Jane was a Latin scholar with a special interest in St. Jerome and his translation of the Bible into Latin. She taught Latin and Greek and remained active in research throughout her professional life. Jane wrote an article titled "Luis de León and the Song of Songs" for her husband's festschrift, a book of original essays by his faculty colleagues and students to honor his contributions to scholarship.
In 1998, the Barrs moved to Claremont for retirement. James died in 2006.
Jane is survived by three children, Catherine of Gilbertsville, New York; Allan of Claremont; and Stephen of London; by daughters-in-law Xiaohua Peng and Susan Worsey; and by five grandchildren.
Private interment will take place later this year at Christ Church, Oxford. Memorial donations can be sent to Oxfam America or Mt. San Antonio Gardens.