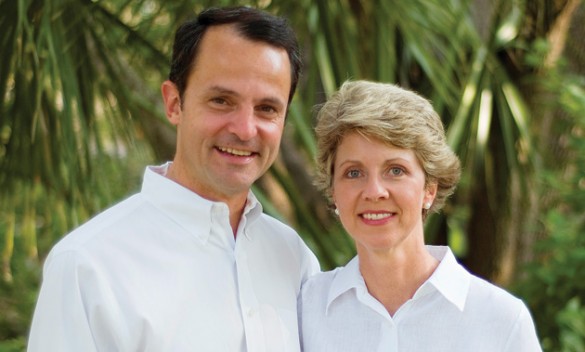 Seeking to expand opportunities and education around entrepreneurship at the Vanderbilt Owen Graduate School of Management, alumni Jack Long, CEO and co-founder of School Admin, LLC, and Carolyn Long have committed $1.5 million to the school. The Longs both earned their master of business administration degrees at Vanderbilt in 1983.
"[rquote]Business creation is critical to our country's long-term economic well-being," said Jack Long.[/rquote] "My wife, Carolyn, and I have used our experience at the Owen School to create successful businesses. We want to see future generations of Vanderbilt students succeed in building their own companies."
M. Eric Johnson, Ralph Owen Dean and Bruce D. Henderson Professor of Strategy at the Owen School, said the Longs' support will have a far-reaching impact at Owen and the entire Vanderbilt community. "Not only will their generosity support the vision of burgeoning entrepreneurs at Owen, but it also will foster a growing culture on campus in which students are challenged to think about their professional training in a whole new light," Johnson said.
The funds will be used to extend the programs and coursework developed through the Owen School's Center for Entrepreneurship. Under the leadership of professor emeritus Germain Böer, programming has grown to include accelerator prizes like FireStarter and the annual Jim and Leah Sohr Grant, as well as hosting a number of guest speakers and panels.
Future initiatives that the Longs' commitment will help support include creating an immersion experience that offers graduate business students summer or internship opportunities to research their business ideas; introducing an annual entrepreneurship conference; and creating programming in partnership with Vanderbilt's new Innovation Center as well as Nashville's growing entrepreneur community.
Jack Long is chairman and co-founder of SchoolAdmin, LLC, a web-based administration tool for independent and charter K-12 schools. He is past chairman and co-founder of PeopleAdmin, Inc. and Lone Star Overnight, L.P. In 1994, he was named Entrepreneur of the Year by Ernst & Young. Carolyn Long retired from a career in commercial banking and is a passionate volunteer fundraiser and board member for several environmental and educational non-profit organizations.
"We are building something very special at Owen that leverages the strength of Vanderbilt and Nashville," said Michael Burcham, a successful entrepreneur and founder of Nashville's Entrepreneurship Center. Burcham developed and continues to teach Owen's popular "Launching the Venture" course. "The Longs' support will allow us to take entrepreneurship education and programming to a whole new level at the Owen School."
Trisha Fridrich, who received her master's of business degree from Vanderbilt in 2016 and is Owen's most recent Sohr grant winner, said she looks forward to seeing expanded opportunities for Owen students. "Entrepreneurship is not just about launching a startup as I did, but also about being able to explore innovation roles in a corporate setting or going into an area like venture capital."
Learn more about entrepreneurship education at Vanderbilt at owen.vanderbilt.edu.