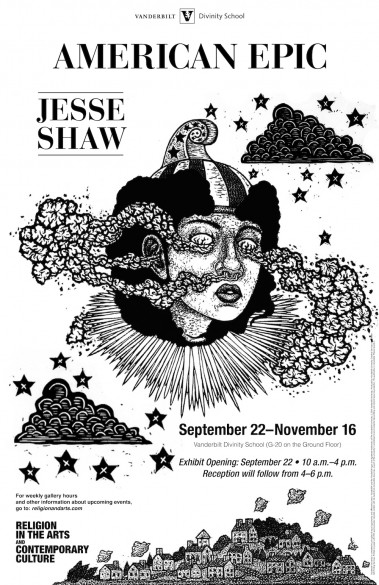 'American Epic,' an exhibition by artist and master printmaker Jesse Shaw, will be hosted by Religion in the Arts and Contemporary Culture at Vanderbilt Divinity School this fall.
The show will open to the public Sept. 22 from 10 a.m. to 4 p.m. with a reception to follow from 4 to 6 p.m. Shaw will conduct a "walk through" gallery talk at 5 p.m. The exhibition, located in the Divinity School's Art Room (G-20), will be open Mondays, Wednesdays and Fridays from noon to 1:30 p.m. through Wednesday, Nov. 16.
"Shaw will comment on his creative methodologies and the conceptual worlds at play in the series and its various images," said Dave Perkins, associate director of Religion in the Arts and Contemporary Culture. "The audience will be encouraged to interact with the artist in a Q&A."
Shaw, of Clarksville, Tennessee, works primarily in relief prints carved from linoleum blocks. His work is based in the narrative, satirical, political and social commentary tradition of the graphic print. He has completed 27 prints in the "American Epic" series during the past seven years.
Shaw was inspired to begin his own interpretation of the American story and its culture when he traveled to Dartmouth College to see Jose Clemente Orozco's mural "The Epic of American Civilization."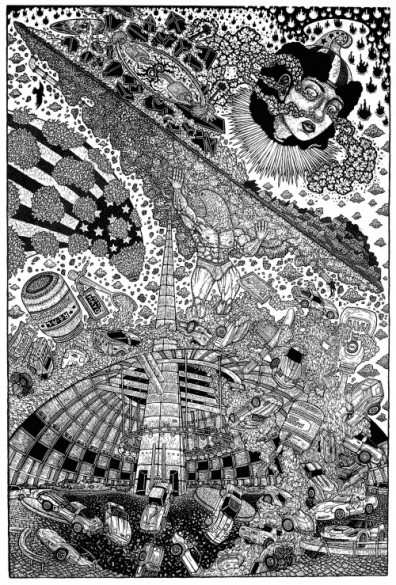 "This interest in Orozco's work led me to Mexico to study Mexican printmaking and the works of other Mexican muralists, including Diego Rivera and David Alfaro Siqueiros," Shaw said. "The intensity and sincerity in the murals, along with the history of the political and social purpose of printmaking in Mexico, brought me to working on prints in the style of muralism."
Shaw's work in this exhibit is part of a project that will eventually consist of 50 prints illustrating and critiquing American society. When the series is complete, the prints will form one large masterwork.
Shaw, who continues to explore other mediums, techniques and collaborations as an extension of the American Epic prints, earned his master of fine arts in printmaking from the Rhode Island School of Design in 2009. He received a bachelor of fine arts from Austin Peay State University, where he has taught printmaking and drawing as an adjunct professor.
His work has been exhibited in Nashville, New Orleans, New York and Philadelphia, among other cities.