Thinking Out of the (Lunch) Box resumes with Wood and Bess
by
Ann Marie Deer Owens
Sep. 1, 2016, 2:00 PM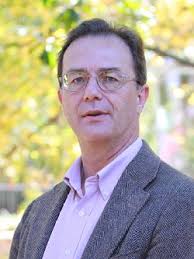 Historian Michael Bess, who writes about the social and cultural impact of technological change, will lead off this year's "Thinking Out of the (Lunch) Box: Conversations with a Philosophical Flair" series at the Nashville Public Library (main) Wednesday, Sept. 7.
Bess, the Chancellor's Professor of History and professor of European studies at Vanderbilt, will discuss his most recent book, Our Grandchildren Redesigned: Life in the Bioengineered Society of the Near Future.
Bess has spent the past 13 years delving into fields not typical for a historian, including engineering, medicine, biology, genetics and neuroscience. He is working on a book project titled What Makes Us Human? From Neurons to the Sistine Chapel.
"Over the coming decades—probably a lot sooner than most people realize—the next great wave of technological change will wash over our lives," Bess said. "These rapidly advancing biotechnologies will offer dazzling new capabilities to coming generations, but will also pose a grave danger of exacerbating existing inequalities and generating entirely new forms of societal fragmentation, prejudice, and conflict."
This series, now in its 15th year, is hosted by David Wood, W. Alton Jones Professor of Philosophy at Vanderbilt, professor of European studies and professor of art. "Thinking Out of the (Lunch) Box showcases the research of some of Vanderbilt's most sparkling minds in an informal conversational setting," said Wood, who is founder of the series.
Reservations are not necessary. Interested individuals just show up at the library, located at 615 Church St. A limited number of box lunches will be available starting at 11:30 p.m. in the library's conference center. A voluntary donation of $5 is requested per lunch to help defray expenses. The conversation with Bess begins at noon.
Thinking Out of the (Lunch) Box is co-sponsored by Friends of the Nashville Public Library, the Philosophy Department and the College of Arts and Science, with additional funding provided by the Kendall Berry Charitable Trust.
For more information, email David Wood or call the Nashville Public Library at 615-862-5800.