Media Inquiries
Latest Stories
A place to build community and well-being practices that lead to lifelong success is how university officials described the new Center for Student Wellbeing at its grand opening on Wednesday, Aug. 31.
"This building and this center is a signal of a major priority on campus. When I shake the hands of all those wonderful kids at Commencement … I see awards. I see distinctions. … But what I really want to see is wellness. What I really want to see is health. What I really want to see is that we have built somebody a place to thrive and grow and for them to say I can go forward in my life in a happy, positive way," Chancellor Nicholas S. Zeppos said at the afternoon ceremony.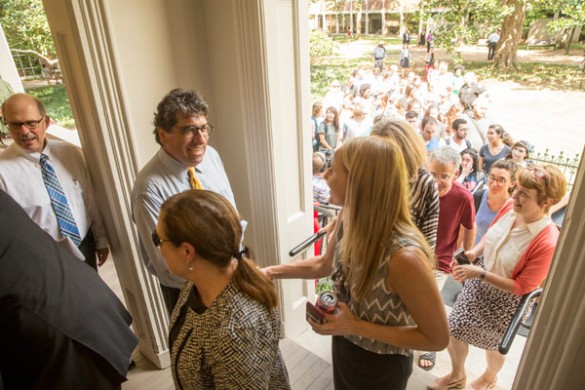 Designed to be a hub for wellness and prevention resources, the center will focus on helping undergraduate, graduate and professional students develop the skills necessary to practice self-care, promote personal growth and strengthen their emotional and physical health.
"Vanderbilt is an excellent, outstanding academic institution. … I think the mistake that we make, and that we contribute to in many ways by saying how outstanding we are and all the achievements we have, is to confuse excellence with perfection. … And what I try to emphasize is that we are all struggling; we are all imperfect in some way," Zeppos said.
The students, faculty and staff attending the grand opening ceremony had the opportunity to tour the new facility that will offer services such as well-being, academic and peer coaching, a dissertation support group, recovery support services, meditation and skill-building workshops.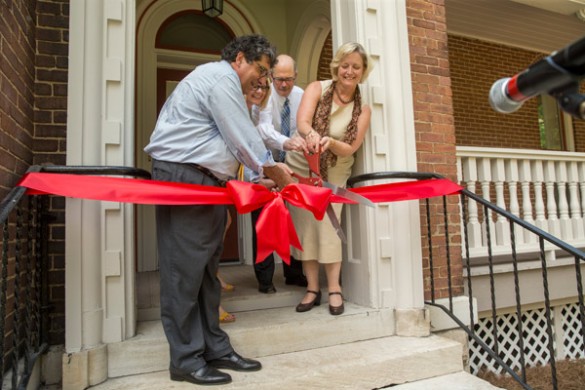 Provost Susan R. Wente joined the chancellor, Dean of Students Mark Bandas and Center for Student Wellbeing Director Rachel Eskridge to cut a ribbon to officially open the center.
During her remarks, Wente encouraged the university community to view the opening of the center as an opportunity and a responsibility to have more conversations about the challenges and hurdles that students and others on campus may face. She also talked about the responsibility of all Vanderbilt community members to recognize how different backgrounds and different experiences can impact well-being.
"Today marks both an opportunity and a responsibility—and a call to action. Take it as a way to show that we are truly committed to everyone here in our community and on our campus."