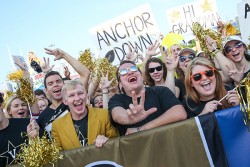 Vanderbilt undergraduate alumni from the Classes of 2007 to 2016 can join the National Commodore Club and receive discounted 2016 Vanderbilt football season tickets.
With a per-seat gift of $50 to the NCC, young alumni can purchase season tickets on the sideline at a special rate of $100 (regularly $250). NCC members help fund scholarships and provide other resources for Vanderbilt student-athletes to excel in the classroom and in competition. In addition to making a difference in the success of Vanderbilt athletics programs, members gain access to exclusive benefits.
"We want to make it easy for young alumni to come back to campus and support Vanderbilt athletics—their engagement is critical to the future success of our programs," said Bart Smith, director of the National Commodore Club. "NCC members not only impact the experiences of our student-athletes, they receive athletic benefits including ticket discounts, event invitations, post-season ticket opportunities, newsletters and more."
To take advantage of the 2016 football season ticket discount, young alumni must first make a gift to the NCC online or by calling the NCC office at (615) 322-4114. Then sideline tickets in section B can be secured by calling the Vanderbilt Ticket Office at (615) 322-GOLD (4653).
On game days, young alumni will also have access to a reserved tent in Vandyville, where they can tailgate with friends before heading to Vanderbilt Stadium to cheer on the Commodores.
Those who have already joined the NCC for the upcoming year can contact the NCC at (615) 322-4114 or ncc@vanderbilt.edu to discuss applying the season ticket discount. For more information about methods of payment, additional membership benefits or the impact of gifts, please visit the NCC website at vanderbilt.edu/ncc.