Vanderbilt University, Peabody student listed among those contributing to the public good
by
Joan Brasher
Aug. 30, 2016, 12:00 PM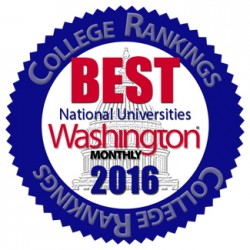 Vanderbilt University is ranked 22nd in the Best National Universities category in the 2016 Washington Monthly college rankings—up from No. 25 last year. This is the 11th year the publication has published its rankings, which appear in the September/October issue and online.
Washington Monthly rates both public and private institutions based on their contribution to the public good in three broad categories: social mobility (recruiting and graduating low-income students), research (producing cutting-edge scholarship and Ph.D.s) and service (encouraging students to give back to their communities and the country).
"Vanderbilt University is among the institutions that are doing the best job of helping students attain marketable degrees at affordable prices," said Washington Monthly Editor in Chief Paul Glastris. "We're delighted to help shine a light on the great work being done at Vanderbilt and commend the university for its commitment to serving its students and the nation."
Vanderbilt also placed 22nd on the "Best Bang for the Buck Colleges (South)" list. Vanderbilt has a need-blind admissions process and is committed to meeting 100 percent of a family's demonstrated financial need. Rather than loans, Vanderbilt provides grant assistants to accepted students.
Bridget Burns, a Vanderbilt Peabody College graduate student, is included in the "Sixteen Most Innovative People in Higher Education" list. She is founder and executive director of University Innovation Alliance, a consortium of universities working to find solutions for low-income, first-generation and minority college students. She is slated to complete her Ed.D. at Peabody in 2017.
For the full rankings and more information, visit the Washington Monthly website.