Undergraduate Research Fair and poster session Sept. 22
Aug. 29, 2016, 8:50 AM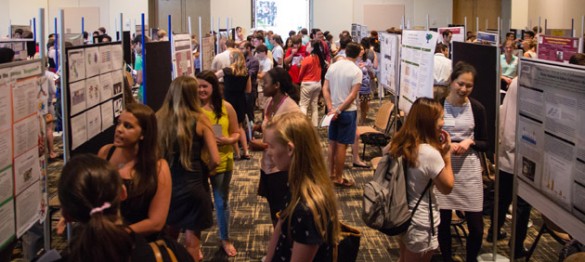 The third annual Vanderbilt Undergraduate Research Fair is scheduled for Thursday, Sept. 22, from 4:30 to 6:30 p.m. at the Student Life Center.
The event will showcase universitywide, interdisciplinary student research through poster presentations set to take place in the Student Life Center ballroom. In addition, a series of panel discussions to provide undergraduates with information on how they can become more involved in research will be held concurrently in the Board of Trust Room.
Any undergraduate student who has participated in undergraduate campus programs, academic-year research or off-campus projects over the past year is encouraged to submit a poster presentation by completing the online registration form by noon on Friday, Sept. 9. Awards will be given to students who deliver the best overall presentation of their research work.
All students and their families, faculty and staff are encouraged to attend the research fair to learn about undergraduate opportunities in research. The event is free and open to the public.
Vice Provost for Learning and Residential Affairs Cynthia Cyrus believes the research fair is a fundamental opportunity for undergraduates.
"We hope to cultivate a student population that takes as much care disseminating knowledge to others as cultivating it within themselves," Cyrus said. "Presenting one's learned experiences and research is a foundational step in the pursuit of educational excellence."
Clare McCabe, professor of chemical and biomolecular engineering, professor of chemistry and director of the Vanderbilt University Summer Research Program (VUSRP), serves as coordinator of the annual Undergraduate Research Fair.
"This is a wonderful opportunity for students to share their excitement and sense of accomplishment about research after being immersed in a different kind of on-campus community for the summer—the research lab," McCabe said. "Research also gives students a taste of what graduate school is really like and what constitutes research. These are valuable lessons and insights, whether or not a student goes on to graduate school."
In addition to the poster session, the following information sessions geared toward students interested in pursuing research will be held.
4:30 p.m. – Finding research opportunities at Vanderbilt
Professors Megan Saylor and Jordan Crawford (Psychology and Human Development)
Professors Kane Jennings and Marie Armbruster (Chemical and Biomolecular Engineering)
Sarah Sun, Scientific Immersion and Mentorship (SIM)
4:45 p.m. – Research opportunities outside of Vanderbilt
Cathy Weisbrodt, Vanderbilt Career Center
5 p.m. – How to find research-based scholarships
Professor Todd Peterson (Office of Honor Scholarships)
5:15 p.m. – Q&A with current undergraduate student researchers
Carson Bryant (Chemistry)
Khloe Gordon (Chemical and Biomolecular Engineering)
Monica Peacock (History of Art and Communication Studies)
Justin Westley (Blair School of Music)
Types of research projects that may be presented at the poster session include the following:
Projects by current undergraduates that have been completed over the course of the academic year or summer, at Vanderbilt or elsewhere
Projects being completed as part of an honors thesis or independent study
"Works in progress" if the student has enough content to present alongside those with finished projects
The Undergraduate Research Fair is sponsored by the Vanderbilt Undergraduate Summer Research Program and the Littlejohn Family, the Office of the Provost, and the School of Engineering.
Contact: Clare McCabe
c.mccabe@vanderbilt.edu