Vanderbilt University's pioneering Academic Strategic Plan, now entering its third year, continues to drive the institution forward toward creating trans-institutional collaborations and innovative solutions for the most important issues facing society.
"The incredible progress we've made reinforces the importance and value of our collegial, collaborative community," Chancellor Nicholas S. Zeppos said. "[rquote]The initiatives we launched with the Academic Strategic Plan are actively enabling faculty, students and staff to tackle today's most pressing questions and allowing Vanderbilt to reach new heights in advancing discovery, learning and service."[/rquote]
The plan's impact has been felt in all corners of campus with more than 2,000 faculty, staff and students directly engaged in creating and bringing the plan to life. The university has so far invested $12 million in Trans-Institutional Program awards involving hundreds of faculty members from all 10 schools and colleges and $1.1 million in the Chancellor Faculty Fellows, which comprise 28 newly tenured faculty.
The plan is arranged into four themes—undergraduate residential education, trans-institutional partnerships, health and health care solutions, and educational technology—with additional focus on graduate education and international strategy. The work of the plan is divided into three phases—Vision, the development phase; Action, the implementation phase; and Impact, the assessment phase.
"Our goal for the plan to be developed in a year with input from all parts of campus was answered by more than 1,500 faculty stepping up to contribute to the Vision phase," Zeppos said. "That strong momentum continues today. From creating pathways for our students to immerse in highly creative learning experiences to the collaborative collegiality that distinguishes our faculty's cross-disciplinary projects, our work is resulting in extraordinary academic achievements and research breakthroughs that respond to the complexities and revolutionary movements of today's world."
Provost and Vice Chancellor for Academic Affairs Susan R. Wente has worked with Jeff Balser, dean of the School of Medicine and president and CEO of Vanderbilt University Medical Center, and with all of the deans to direct the Action and Impact phases.
"With the Action phase in full swing, connections among our four themes have clearly emerged. For example, many of the TIPs projects support groundbreaking innovations in health care and digital learning while creating cutting-edge immersive experiences for our students," Wente said. "We've made great progress with the TIPs awards and Chancellor Faculty Fellows. Our ideas around immersion experiences for undergraduate students are coalescing into action. The next year will bring continued progress on all four themes."
Cutting across all four themes, the Academic Strategic Plan also addresses graduate education and international initiatives. Wente already has made several strategic investments in the Graduate School, which include appointing a dedicated dean, Mark Wallace; relocating the school's administration and activities to the renovated Alumni Hall; and planning for enhanced career development and counseling resources. The provost will convene a working group this fall to explore expanding Vanderbilt's international research and scholarship presence to further advance the institution's reputation and influence.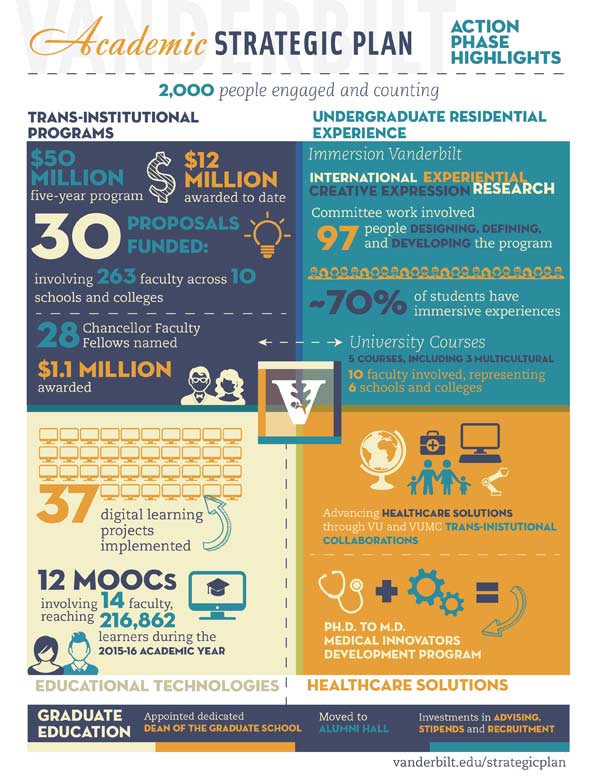 Regular updates on the plan's progress are available on the Academic Strategic Plan website. Recent highlights include:
$12 million invested in 30 TIPs grants involving 253 faculty. 2015 grants include Ethics of Health and Human Flourishing and the Wisdom Working Group. 2016 grants include Africa at a Crossroads and Engineering Immunity.
$1.1 million awarded to 28 Chancellor Faculty Fellows, helping newly tenured faculty maintain and gain momentum in their careers.
Five University Courses established, addressing "grand challenges" and involving 10 faculty from six schools and colleges. Courses include Social Entrepreneurship, Historic Black Nashville and Justice, Mercy and Incarceration.
46 faculty, 28 staff and 23 students involved in Immersion Vanderbilt, outlining the nuts and bolts of immersion and moving the project forward in anticipation of a fall 2018 launch. The four categories of immersion are: international, experiential, research and creative expression.
Continued progress on College Halls, with 3,003 – nearly half the undergraduates on campus – students residing in the system. Work includes new initiatives in The Martha Rivers Ingram Commons and enhanced programming in Warren and Moore Colleges. The Vanderbilt Barnard residential college is under construction and expected to open for occupancy in summer 2018.
The CEECH project — Co-curricular Engagement External to the College Halls — identified four programs to pilot: a fellows program, supper clubs, events that extend connections to first-year houses and short-term faculty-in-residence.
Educational Technologies convened eight committees involving 42 faculty, 21 staff and five students. Twenty innovation grants were awarded, and 37 digital learning projects were implemented. The Center for Digital Humanities, funded by a $1.5 million grant from the Andrew W. Mellon Foundation, opens this fall.
The possibility of new joint degrees, graduate certificates and other programs related to the healthcare solutions initiative are being explored, and the Medical Innovators Development Program – a four-year Ph.D. to M.D. training program — was launched.