Recently graduated students from Vanderbilt Law School successfully briefed and argued a case about the right of victims to sue companies that design and market spyware intended to intercept private communications. Among their obstacles was a sudden case of laryngitis.
The Sixth Circuit Court of Appeals in Cincinnati ruled 2-1 on Aug. 16 that Javier Luis could pursue his lawsuit against Awareness Technologies for the company's role intercepting emails and instant messages between Luis and Catherine Zang, then Joseph Zang's wife.
Software called WebWatcher, acquired from Awareness Technologies, was used by Joseph Zang to capture the emails and instant messages. Subsequently, the information was used against Catherine Zang during the couple's divorce proceedings.
Luis alleged that WebWatcher is marketed as a product to be used "to catch a cheating spouse."
It is illegal to intercept wire, oral or electronic communication under the Federal Wiretap Act. The Vanderbilt students from the law school's Appellate Litigation Clinic argued that it was reasonable for Luis to target Awareness Technologies with a lawsuit for routing Luis' messages to its servers, where they could be instantaneously read by Joseph Zang from a remote computer.
"[rquote]This is an important decision for privacy rights, and particularly for victims of domestic violence[/rquote]," said Mark Pickrell, a law professor at Vanderbilt who recently began teaching the Appellate Litigation Clinic.
Recently graduated Vanderbilt Law School students Calvin Cohen, Larry Crane-Moscowitz, Alex Vey and Clayton Wiggins, who were students at the Appellate Litigation Clinic at Vanderbilt, represented Luis. Wiggins delivered the argument.
"The students worked their fingers to the bone on this case, and the victory is a great reflection of their efforts," said Alistair Newbern, founder of the Appellate Litigation Clinic.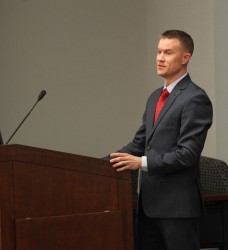 Wiggins woke up the day of the hearing to find his voice had deserted him.
"That was the first time in my entire life that I was unable to speak," Wiggins said. "And it happened to be on that day."
Wiggins believes the cause was talking so much as he rehearsed his argument, combined with bad allergies that day.
"After much Googling of laryngitis remedies, we managed to get him a gravelly squeak by the time he had to go on," Newbern said.
Sixth Circuit Court Judge Alice Batchelder, who cast the dissenting vote in the ruling, said she hoped to have Wiggins argue in the court again, because he did it so well under adverse conditions.
Wiggins is next headed for Okinawa, where he will be stationed as a member of the Marine Judge Advocate General Corps.