Media Inquiries
Latest Stories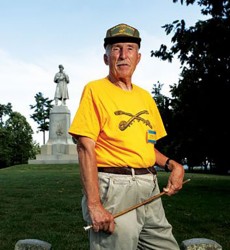 On Sunday, Aug. 21, Vanderbilt Dyer Observatory will host a screening of American Journey: The Life and Times of Ed Bearss, produced by local filmmaker David Currey, principal at Encore Interpretive Design and Road Films, and James D. Kay, attorney and former president of the Battle of Nashville Preservation Society. The event runs from 6:30 to 8:30 p.m. at Dyer Observatory.
Bearss, 93, is chief historian emeritus of the National Park Service and one of the nation's leading authorities on Civil War history and battlefield preservation. In 1990 he appeared in the Ken Burns documentary The Civil War. In 2005, Smithsonian Magazine recognized him as one of the 35 remarkable people every American should meet.
The event coincides with the centennial celebration of the National Park Service. Bearss will attend the screening.
The film follows Bearss' early years in 1920s Montana, to his wounding by the Japanese in World War II, to his career in the NPS and the impact he has had on preserving some of America's most important stories and places. Following the screening, Bearss will talk about his career in the Park Service.
The event is sponsored by Encore Interpretive Design, LLC, Vanderbilt University and the Tennessee Preservation Trust.
Tickets are $25 and must be purchased in advance online at http://americanjourneyfilm.com. The ticket price includes a DVD of American Journey: The Life and Times of Ed Bearss. $5 of every ticket purchase goes to the Tennessee Preservation Trust.
Dyer Observatory is located at 1000 Oman Drive, in Brentwood.
For more information please contact David Currey at Encore Interpretive Design or Lynn Maddox at Vanderbilt University.