Media Inquiries
Latest Stories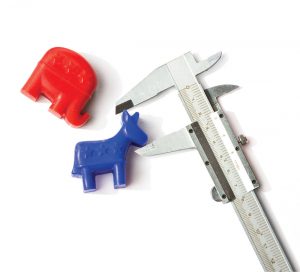 When the political drama House of Cards burst into living rooms in 2013, I got just as wrapped up in the backstabbing action as anyone—and not (only) because the show's power couple shares my last name. A mere three years later, the series has taken so many absurd plot twists that it's become unwatchable. I'll spare you my armchair critique, other than to say perhaps no depiction of American politics can match the shock value generated by the 2016 race for president. Okay, there's Veep, but I digress.
Whatever your political leanings, the acidic divisiveness between—and among—parties in this election cycle has left little for anyone to love. Luckily, I got a break from the daily shouting matches about finger lengths, email servers and Bernie Bros by digging into some of the fascinating, reasoned research around presidential politics being produced by members of Vanderbilt's esteemed political science department for this issue's cover story.
For instance, Larry Bartels, who holds the May Werthan Shayne Chair of Public Policy and Social Science, achieved a bit of fame documenting how a random series of shark attacks a century ago—which had nothing to do with politics—wound up costing Woodrow Wilson votes in the 1916 election. As Bartels has shown, the same phenomenon has occurred in other election cycles, too, leaving me wondering if something like the World Series or a freak snowstorm could shape this year's race for president. Similarly, Cindy Kam, senior associate dean of faculty in the College of Arts and Science and the William R. Kenan Jr. Professor of Political Science, explains how the rise of ethnocentrism in the U.S.—the growing sense of us versus them—is fueling some of the dynamics we're witnessing in the current election cycle.
This summer issue isn't all about politics, of course. We take a dip into movies and books as well. Around the time of Commencement, history professor Thomas Schwartz emailed Vanderbilt Magazine to ask if we planned to write anything about recent grad Temple Baker, BA'15, who had landed a surprise role in Richard Linklater's most recent film, Everybody Wants Some!! Thanks to that email, writer Elizabeth Jenkins, BS'99, connected with Baker and tells us how his career path took an unexpected turn from law-school aspirant to budding Hollywood star.
Also, we join incoming first-year Vanderbilt students in reading Strong Inside, the award-winning biography of how Perry Wallace, BE'70, broke the color lines in SEC basketball. You may already know the outline of Wallace's story, but I assure you that the book, written by Andrew Maraniss, BA'92, offers a rich, often surprising, history of Nashville, Vanderbilt, and the civil rights movement. We hope the excerpt we've published whets your appetite for more.
Finally, I want to give a shout out to the more than 7,400 members of the Vanderbilt community who donated during the university's inaugural Giving Day on April 21. Together we raised $1.6 million in just 24 hours. That's incredible! What's more, those funds support initiatives like Opportunity Vanderbilt, our model financial aid program that expands educational opportunities for students regardless of their families' financial circumstances. Check out some of the Giving Day pictures.
On that note, I'd be shirking my duties as a Reunion volunteer if I didn't remind you in the strongest terms possible: REGISTER FOR REUNION, Oct. 20–22. Hope to see you there.
RYAN UNDERWOOD, BA'96, EDITOR
ryan.underwood@vanderbilt.edu
@runderwood
---