David Williams to discuss 'Today's SEC' at Williamson County Library
by
Ann Marie Deer Owens
Aug. 2, 2016, 1:13 PM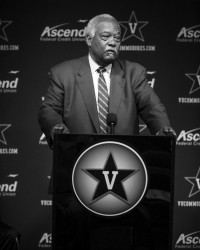 Just two days prior to the Commodores' football season opener against South Carolina, David Williams, vice chancellor for athletics and university affairs and athletics director at Vanderbilt, will offer his perspective on the Southeastern Conference (SEC) during an Aug. 30 talk at the Williamson County Public Library.
Williams, who is also a professor of law, will discuss "Today's SEC" from 1 to 3 p.m. at the library.
Williams has been instrumental in directing Vanderbilt athletics toward national prominence in several areas. He has placed a strong priority on retaining top coaches and staff while also hiring nationally prominent coaches. His recent hires include women's basketball head coach Stephanie White and men's basketball head coach Bryce Drew. White previously was head coach for the WNBA's Indiana Fever. Drew was head coach at Valparaiso University before joining Vanderbilt.
Athletics programs and student athletes at Vanderbilt also have been positively impacted by a wide variety of facility projects overseen by Williams.
In addition to his overall guidance of Vanderbilt athletics, Williams is active with the SEC and NCAA in matters of negotiations, reforms, enforcement and planning.
He has been a member of the SEC group that has negotiated ESPN and CBS television partner contracts. He also serves as chair of the NCAA Infraction Appeals Committee and was a member of NCAA Enforcement Working Group.
A native of Detroit, Williams holds a bachelor of science in social science and master of arts in education from Northern Michigan University, where he ran track. He also earned a master of business administration and a J.D. from the University of Detroit as well as a LL.M. in taxation from New York University. He taught for a decade as a teacher and coach in the Detroit public school system before going to law school.
Williams has volunteered in several leadership roles in the Nashville community since arriving from The Ohio State University in 2000. One of his most recent community efforts is serving as co-chair of the transition team for new Metro Nashville Public Schools Director Shawn Joseph. The transition team is part of the 100-day plan guiding Joseph's entry into the school district.
Williams' lecture is part of "Vanderbilt at the Library," in which the university's professors share their expertise monthly with the public on a wide range of research projects.
A reservation is required for each talk.
For more information on the lecture series, email Lynn Maddox or call Community, Neighborhood and Government Relations at 615-343-0700.