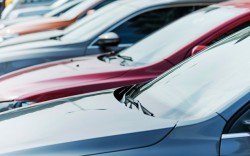 Vanderbilt University faculty, staff and students will see an increase in monthly fees for on-campus parking in 2016-17. The increase, designed to help pay for maintenance and improvement of the university's parking facilities, takes effect Sept. 1.
Parking permit rate increases for university faculty and staff have been nominal since 2013, while student permit rates have remained flat over the past two years. As a result, Vanderbilt's parking rate structure has fallen out of alignment with the cost to maintain, repair and properly provision Vanderbilt's parking operation.
Vanderbilt dedicates 65 acres of its campus to parking, which includes an inventory of 15,724 parking spaces across 11 structured and 139 surface lots. Vanderbilt spends approximately $13.3 million each year to maintain these lots and provide transportation services. Of the total 15,724 parking spaces, 7,346 are leased to Vanderbilt University Medical Center at cost.
Fees from parking permits in FY17 are expected to generate approximately $6.1 million, or approximately 71 percent of the cost to maintain the lots. The university will fund the remaining $2.5 million, or approximately 29 percent of the cost to maintain the lots.
Parking permit rates are developed by Parking Services in partnership with the Division of Finance. The university continuously strives to manage cost structure while maintaining a thoughtful plan for improving the safety and aesthetics of Vanderbilt's garages and parking lots.
FAQs about 2016-17 university parking rates >
As a reminder, Vanderbilt offers faculty, staff and students a wide variety of alternative transportation options, including a free ride-to-work program in cooperation with MTA and discounted tickets for RTA buses and the Music City Star commuter train. Car share programs are available for use on campus through ZipCar and Enterprise CarShare, and all students are encouraged to take advantage of the free Vandy Vans shuttle service.
In addition, Lot 127, located 10 minutes from campus on Chestnut Street, continues to be available as a cost-effective alternative to on-campus parking. Parking in the Chestnut Street lot is free. The lot is serviced by shuttles traveling to the main campus and to Vanderbilt Health One Hundred Oaks until 9 p.m. each weekday. The university continues to review and improve alternative transportation options to better serve the Vanderbilt community.
Parking facilities and resources are integral to Vanderbilt's present and future. With this in mind, the university is taking a fresh look at its long-term parking and transportation strategy. Members of the Vanderbilt community will hear more about this process during the coming academic year through campuswide dialogues and town hall conversations with university administrators that will address Vanderbilt's ever-changing land use, transportation and parking initiatives. The university also will work with the city of Nashville to investigate productive ways to partner and develop a modern view of sustainable transportation and parking in a growing metropolitan environment.
Faculty, staff and students can purchase permits for the 2016-17 academic year by logging in to the Vanderbilt University Police Department Parking Services website or by calling 615-322-2254. Student permits will go on sale Aug. 1, and employee permits will go on sale Aug. 8.
Monthly payroll deduction for regular parking permits is based on an employee's Annual Base Benefits Rate. The ABBR is the amount on which Human Resources bases the cost of other benefits, including life insurance. The ABBR is not necessarily the same as an employee's annual salary.
To find your ABBR:
Click on the C2HR button.
Log in using your VUnetID and e-Password.
Click on the Job Information link.
Find your Annual Base Benefits Rate (ABBR).
The new monthly pricing structure for regular permits is as follows:
| | | |
| --- | --- | --- |
| Salary Band | Salary Range | Monthly Permit Cost |
| Band 1 | < $49,999 | $40.00 |
| Band 2 | $50,000 – $99,999 | $50.00 |
| Band 3 | $100,000 – $149,999 | $70.00 |
| Band 4 | $150,000 – $199,999 | $90.00 |
| Band 5 | > $200,000 | $90.00 |