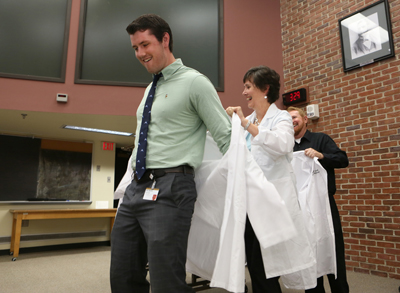 Vanderbilt University School of Medicine first-year Ph.D. students are embarking on an exciting time in their lives and careers this fall as they begin their biomedical sciences research at Vanderbilt.
Faculty and staff have the special opportunity to welcome them to our community by making a gift to sponsor the Simple Beginnings ceremony.
For every $100 gift, you can sponsor a new doctoral student's lab coat. Each contribution will go to the Simple Beginnings Fund to support this year's ceremony, scheduled for Friday, Sept. 2.
Surplus funds will benefit the Young Biomedical Research Scholar Fund, which supports Ph.D. students in the biomedical sciences.
Those who want to show their support may do so by making a gift at vu.edu/simplebeginnings.