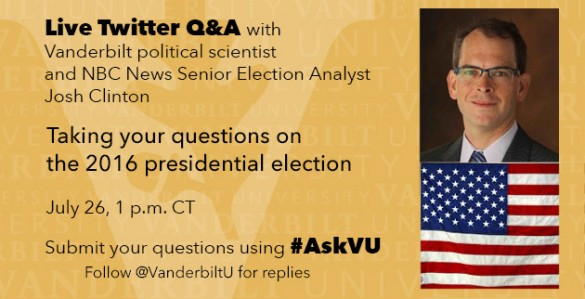 Josh Clinton of Vanderbilt University returns to Twitter July 26 to answer questions about the Democratic National Convention, a week after a popular question-and-answer Twitter session during the Republicans' event.
Clinton, the Abby and Jon Winkelried Professor of Political Science and co-director of the Center for the Study of Democratic Institutions at Vanderbilt University, studies issues related to elections, lawmaking and public opinion using statistical methods. He is a senior election analyst at NBC News, where he assists and advises on polling and elections and also serves on a task force to study the accuracy of election polls by the American Association of Public Opinion Research.
Clinton will entertain questions on Twitter for one hour beginning at 1 p.m. Central Daylight Time on Tuesday, July 26.
Clinton has published multiple articles in the American Political Science Review, American Journal of Political Science and Journal of Politics. Other projects include work examining the political consequences of the Affordable Care Act, supported by a grant from the Russell Sage Foundation. He received graduate degrees in political science, statistics and economics from Stanford University after graduating from the University of Rochester.
Questions for Clinton can be tweeted in advance or during the event using the hashtag #AskVU. The event can be read live on Twitter July 26 by following @VanderbiltU.
The Q&A on the presidential election is the eighth in Vanderbilt's Twitter series #AskVU, in which Vanderbilt experts on a variety of topics are available to answer questions from the public via Vanderbilt's Twitter account.