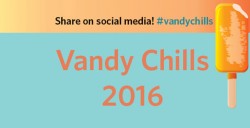 Get ready to spend a frozen Friday with your colleagues and enjoy a sweet treat at one of Vanderbilt's coolest events: Vandy Chills! This Employee Appreciation event will be held Aug. 12 at the following locations:
On-campus locations:
11 a.m.–3 p.m. — Front of Eskind Library
11 a.m.–3 p.m. and 11 p.m.–1 a.m. — The Vanderbilt Clinic (near bridge to VCH)
11 a.m.–3 p.m. — Library Lawn (near the Harold Stirling Vanderbilt statue)
On-campus pop-ups:
11–11:30 a.m. — 3401 West End Ave.
11:45 a.m.–12:15 p.m. — Crystal Terrace
12:30–1 p.m. — 2525 West End Ave.
1:15–1:45 p.m. — Blair School of Music and Vanderbilt Psychiatric Hospital
2–2:30 p.m. — Peabody, Magnolia Lawn
2:45–3:15 p.m. — Baker Building
Dairy-free, gluten-free and no-sugar-added options will be available.
Download a flier to post in your area.
Share the fun!
Take pictures at the event, and share them on Facebook, Instagram, Tumblr and Twitter using #vandychills to add to our online collection. At some locations you can even pose for a picture in a cut-out image of a frozen treat!
Questions? Contact Human Resources or visit vu.edu/vandychills.