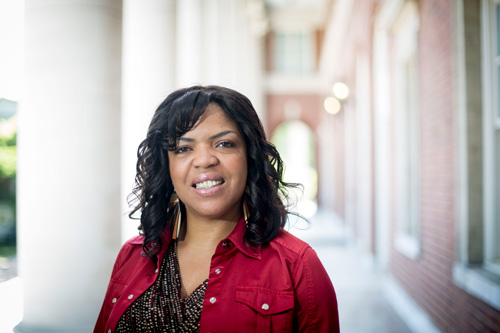 Noting her "extraordinary work on African Americans in STEM (Science, Technology, Engineering and Mathematics)" issues, a Vanderbilt professor has been invited to give the keynote speech at the UNCF STEM Scholars Program Orientation and Student Leadership Summit.
Ebony O. McGee, assistant professor of education, diversity and STEM at Vanderbilt's Peabody College of education and human development, will speak at noon July 30 at Emory University Conference Center in Atlanta. Her talk is titled "It's Not Just in Your Head: Institutional Contexts that Position Black STEM Students as Impostors and What You Can Do About It."
"[rquote]Impostor syndrome involves an anxiety that others have mistakenly overestimated one's talents or abilities and, at any moment, will realize they have been duped," McGee said.[/rquote] "I will challenge interventions that propose that black STEM students are primarily responsible for their own feelings of impostorism while ignoring institutional structures and practices that allow impostorism to thrive."
African Americans represent more than 13 percent of the United States' population, but less than 5 percent of its tech workforce and less than 1 percent of tech innovators and entrepreneurs.
To support a more robust STEM pipeline of next-generation African American scholars, innovators and tech entrepreneurs, the Fund II Foundation and UNCF (United Negro College Fund) have established the UNCF STEM Scholars Program.
The UNCF STEM Scholars Program is a 10-year initiative designed to identify and provide scholarship and academic support for a total of 500 talented African American/black high school students who aspire to earn STEM degrees and to pursue careers in STEM fields.
The summit runs July 29-31 in Atlanta.