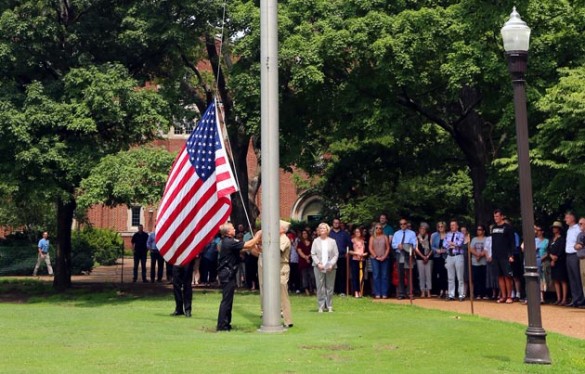 Vanderbilt students, faculty and staff gathered on Alumni Lawn July 8 to observe the lowering of the American flag to half-staff as a mark of respect for the victims of the attack on police officers July 7 in Dallas, Texas.
President Obama signed a proclamation earlier in the day Friday lowering flags to half-staff at the White House and throughout the government in memory of the police officers killed in Dallas. It is the practice of Vanderbilt University to lower the flags on university property upon proclamation of the president or the governor. Flags will remain lowered until sunset Tuesday.
Provost and Vice Chancellor for Academic Affairs Susan R. Wente offered remarks at the Alumni Lawn gathering.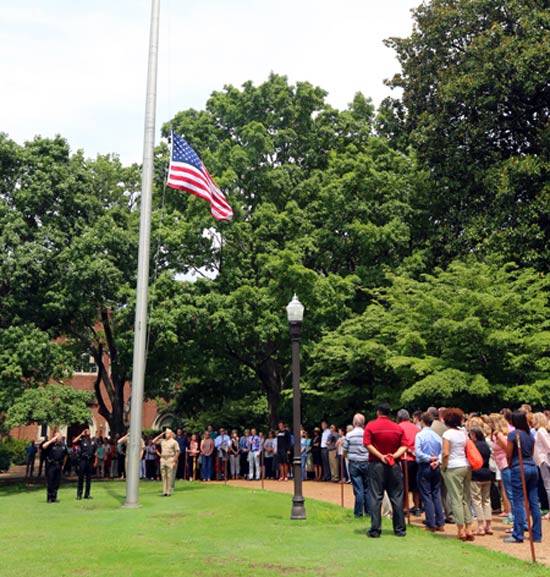 "We come together this afternoon to join with President Obama and the rest of the nation as flags are lowered coast to coast as a mark of respect for and to remember the fallen officers and those who were injured in the attack in Dallas, Texas," Wente said. "I know many of us are and have been grieving the loss of lives, and it is important in these times of tragedies to be the people we know ourselves to be.
"Less than an hour ago, Vice Chancellor David Williams sent me an email; to quote: 'We need to set the example, and be very clear within our community,'" Wente said. "And in our reaching out to all communities and in setting an example in our actions. We are a family linked by humanity no matter our differences. We respect all and value service. We oppose violence no matter where it is found."
Wente concluded the event by asking those gathered to join her in a moment of silence.