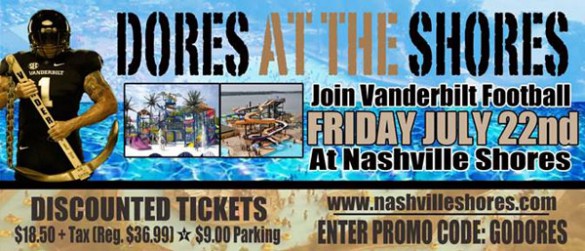 Join the Vanderbilt football program at Nashville Shores on Friday, July 22, to celebrate summer and kick off the Commodore football pre-season. The fun starts at 11 a.m.
Get 50 percent off the regular park admission price. For discounted admission, visit the Nashville Shores website and get a discounted ticket for the entire day. You also may use the promo "Go Dores" on the website or at the gate to receive the discounted rate.
Members of the Vanderbilt football program will be on hand from 11 a.m. to 1 p.m. to meet with fans, sign autographs, compete in waterslide races and much more.
Admission to the park includes the "dive-in" feature movie Star Wars: Episode VII – The Force Awakens. The movie will screen at dusk.
Contact: ticket.office@vanderbilt.edu