Clifford Hofwolt, long-serving Peabody faculty member, has died
Jul. 8, 2016, 4:37 PM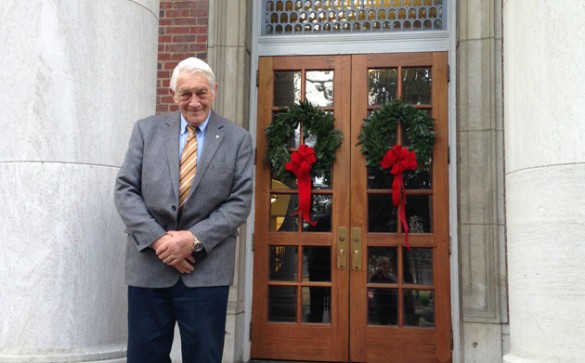 Clifford A. Hofwolt, a longtime professor of science education whose tenure at Peabody College predated its merger with Vanderbilt, died at his home in Nashville on July 5. He was 74.
A member of the faculty in Peabody's Department of Teaching and Learning, Hofwolt had expertise in the field of elementary and middle school science education. He is fondly recalled for having taught for many years in a science laboratory he developed for pedagogy in the Mayborn Building on the Peabody campus. He published and presented on effective elementary science education as well as on the use of learning technologies and video case studies. Among his grant-funded activities were development of training materials and methods for Peace Corps teachers headed to Kenya, Zaire, Rwanda, Fiji, Liberia and Nepal.
Hofwolt was associate professor of education. Since 2002, he also had served as director of graduate studies in Teaching and Learning. He dedicated himself in that role to recruiting talented students to the department's licensure and non-licensure master's-level programs as well as to its doctoral programs. His great love was mentoring both undergraduates and graduate students in their science education careers. He advised many of the department's students.
Hofwolt joined the Peabody faculty in 1972 after earning his Ed.D. from the University of Northern Colorado. He had previously received master's and bachelor's degrees from Colorado State University (then named Colorado State College) and taught chemistry and physics for two years in Huntington Beach, California. After completing his doctorate, he taught for two years at Minot State University in North Dakota. At Peabody, he served as assistant professor until 1979, when he was promoted to associate professor.
Hofwolt was the longest serving of just three remaining active Peabody faculty members who taught at Peabody prior to the 1979 merger.
"Those who had the opportunity to work closely with Cliff learned quickly of his deep devotion to Peabody and its students," recalled Camilla P. Benbow, Patricia and Rodes Hart Dean of Education and Human Development at Peabody College. "That devotion never wavered in more than 40 years of service. He will always be a part of Peabody, and we will always be proud to say that. He will be dearly missed."
Among the contributions of which Hofwolt was most proud was his involvement with the Mid-South Educational Research Association. He served in many capacities, including as president in 2000 and executive director since 2006.
His service commitments to Vanderbilt, of which there were many, included two terms as a member of the Community Affairs Board, as a member and later chair of the University Traffic Committee, and as a member of the University Security Committee. At Peabody, his service included coordinating the college's reaccreditation with the National Council for the Accreditation of Teacher Education (1995-97) and two terms of service on the Peabody Faculty Council, among other responsibilities.
Born in Oak Creek, Colorado, Hofwolt was the first of three sons of Clifford and Anne Hofwolt of Palisade, Colorado, where he was an outstanding athlete and student. Twice an all-state fullback, he led his high school team to state football championships. A three-sport man, Hofwolt also was an all-conference basketball player and was named to his league championship all-tournament team for two years running. Hofwolt was the valedictorian of the class of 1960 and won many awards for his academic excellence.
He is survived by his wife, Mary; daughter, Dawn; and son, Charles; and a daughter, Ashley, from his first marriage. He also is survived by three loving granddaughters: Julie, Jenny and Natalie, all who live in the Nashville area. Survivors also include a beloved younger brother, Jerry, a retired naval officer who lives in Hawaii.
Visitation will be at Woodmont Christian Church, 3601 Hillsboro Rd. in Nashville, on Monday, July 11, from 4 to 7 p.m. A memorial service will be held at Woodmont Christian Church on Tuesday, July 12. A short visitation will begin at 1 p.m., with the memorial service to begin at 2 p.m.
In lieu of flowers, the family requests memorial gifts be made in honor of Professor Hofwolt to Peabody College, Vanderbilt University, PMB 407727, 2301 Vanderbilt Place, Nashville, TN 37240-7727. Memorial gifts will be used to create a fund in honor of Hofwolt and to support his love for elementary science educators.