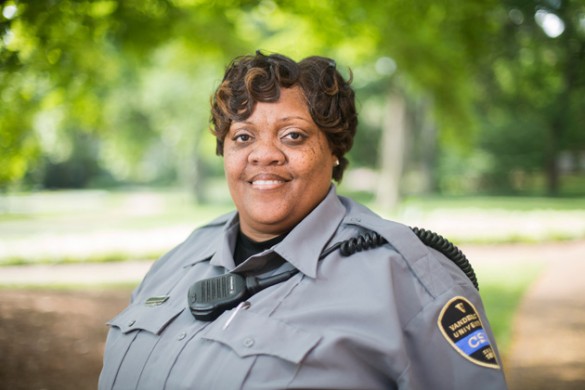 Teresa Anderson has been a Vanderbilt community service officer since March 2014. She is posted at Kirkland Esplanade, one of the university's main entrances, and is well-known by visitors, students and staff as a friendly face welcoming everyone to campus.
Several people have told us wonderful things about how you make this a safer and more welcoming place. What work do you do to serve our community?
I'm a community service officer, which kind of speaks for itself – I insert myself into the community in all different aspects. It takes a special person to relate to people from all walks of life, and I've always been a people person. I love people, so anything I can do to be part of the community, I enjoy.
How did you become interested in the position? Have you always been posted at Kirkland?
When I saw the job posting for community service officer, I liked the sound of it, because I get to work with everyone – college kids, newcomers, visitors. They all stop by my booth to let me know what's going on. I started out in the hospital handling traffic. I worked in trauma, and then my major and lieutenant at the time recommended me for the post at Kirkland, and here I am.
What is the most rewarding aspect of your work?
I always keep a smile on my face when I greet people, because you never know what problems someone might be having that day. But I can help change their day with a smile and a "How can I help you?" My job is to make sure that while you're here, you're comfortable. My mother used to tell me I never met a stranger. And now, it doesn't really even feel like work.
What are some of the challenges you face in your position?
There's a lot of focus on police officers in the news these days, and some people are even scared of the police. My challenge is to show people there are good police and community service officers. We do this job to protect people, and we'll do whatever we need to do to make people safe. I want to make people understand there are good officers out there who are trying to serve our communities the best way we can.
How do CSOs help make this a more inclusive campus for our students, staff, faculty, and visitors?
CSOs are a big part of our customer and community service. We are all over our campus, at the hospital complex and at One Hundred Oaks. We provide services to students, guests, staff and visitors: directions, escorts, jump starts, vehicle access if you lock your keys in the car, and traffic control and parking assistance. We are also a security presence in and around our residence halls and the hospital. We are assigned to key areas to be the eyes and ears of the department. We go just about anywhere in the community. We include everybody, because we're out here with everybody. The program is expanding because we feel like we're needed, and that's a really great feeling.