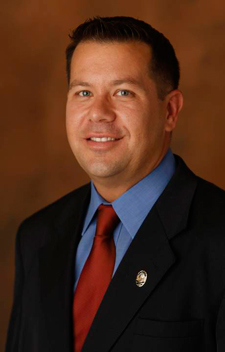 Rick Burr, a major with Vanderbilt University's Police Department, will take on a larger role at VUPD as its new assistant police chief, effective July 1.
A 16-year police veteran, Burr has spent much of his career at Vanderbilt. He joined the university in 2006 as a police officer and since has served in leadership roles for VUPD's Criminal Investigations Unit and the Special Operations Division, which includes the Emergency Preparedness Unit, Emergency Operations Center, Special Events Unit and Background and Special Investigations. Most recently he has overseen the police precinct for the university campus and the unit responsible for criminal and non-criminal investigations.
Prior to Vanderbilt, he served as an officer with the Clarksville and Gatlinburg police departments.
"It pleases me greatly to have Rick Burr continue his leadership track within our department. He is a dedicated professional, and I look forward to his continued growth in his new role as we work together to deliver on the department's commitment to customer- and community service-oriented policing that provides the highest level of service possible to the Vanderbilt community," Vanderbilt Police Chief August Washington said.
Burr fills the position previously held by Honey Pike, who joined the university in 2010 after a more than 30-year career with the Metropolitan Nashville Police Department. Pike is leaving the university to relocate with her family to Massachusetts.
"Honey Pike's contributions to our department are invaluable. I thank her for her valued service to our department and to the Vanderbilt community," Washington said.
As assistant chief, Burr will assist Washington in overseeing one of Tennessee's larger law enforcement agencies. The department, which holds state, national and international accreditation, provides comprehensive law enforcement and security services to Vanderbilt University and, through service agreements, to Vanderbilt University Medical Center, which now operates as a fully independent, nonprofit entity as of April 30, 2016, and a variety of medical center-owned facilities throughout the Davidson County area, including Vanderbilt Health One Hundred Oaks.
Burr holds a bachelor's degree from Austin Peay State University and is a graduate of the Southern Command and Leadership Academy, a law enforcement leadership and management program of the University of Tennessee, Chattanooga's Criminal Justice Department and the Law Enforcement Innovation Center at the University of Tennessee, Knoxville.