Media Inquiries
Latest Stories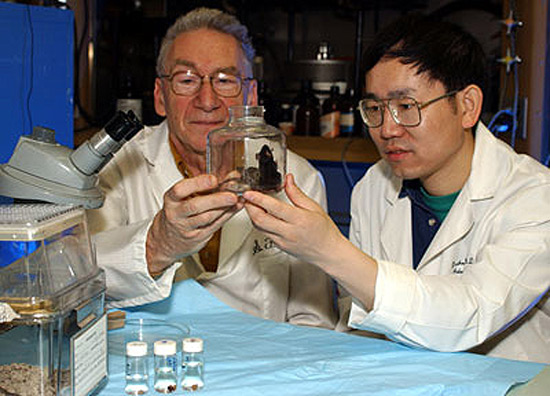 Sidney Fleischer, a renowned molecular biologist famous internationally for his work on calcium and the discovery of the ryanodine receptor, was remembered as a "true giant" in his field who worked along with his wife to advance the field of cell signaling.
Fleischer died May 27 at his Nashville home at the age of 86. He retired from Vanderbilt University in 2002 as professor of biological sciences, emeritus, after a 45-year career, which included 38 years at Vanderbilt.
The discovery of the ryanodine receptor, a class of intracellular calcium release channels that plays a key role in triggering muscle contraction, has allowed scientists in varied disciplines to make other discoveries in uncovering links to human diseases such as sudden cardiac death, malignant hyperthermia and central core disease.
Fleischer won Vanderbilt's top research award, the Earl Sutherland Prize for Achievement in Research, in 1981 for his work in the field of biological oxidation and mitochondrial structure-function analysis, the role of the Golgi apparatus and endoplasmic reticulum in protein synthesis, and the molecular processes of calcium release in muscle contraction. The annual faculty prize was established in 1976 by the Vanderbilt University Board of Trust to recognize national and international achievements in research, scholarship or creative expression.
"The field of biological sciences just lost a true giant, a mentor, a great thinker, and a true scientist," said Dr. Vernat Exil, who collaborated with Fleischer as an assistant professor of pediatrics at Vanderbilt from 2000 to 2014. He is now chief of pediatric cardiology at the Children's Hospital Heart Center at the University of New Mexico. "[rquote]He was a kind-hearted and brilliant man with a great story to tell. He will be missed."[/rquote]
Fleischer's research made major contributions to furthering the understanding of how cells regulate calcium through an extensive body of work on the sarcoplasmic reticulum, a system of membrane-bound tubules that surrounds muscle fibrils, releasing calcium ions during contraction and absorbing them during relaxation, particularly in heart and skeletal muscles.
Fleischer was born in Brooklyn, New York, in 1930. His parents were Jewish immigrants from Poland. He graduated from Stuyvesant High School in New York City, which is renowned for excellence in math and science. He earned a chemistry degree at the City College of New York in 1952, where he met fellow student Becca Patras. The two then earned Ph.D.'s from Indiana University. Ludwig "Lenny" Brand, a fellow graduate student at Indiana, remembered Fleischer as the "most brilliant student in the group." Brand, an emeritus professor of biology at Johns Hopkins University, added: "His passing is a great loss to the scientific community, and I have lost a very good friend."
Fleischer and Patras then joined the Institute for Enzyme Research at the University of Wisconsin, Madison. Fleischer was named assistant professor in 1960, and he and Patras married in 1962. Fleischer was recruited to Vanderbilt in 1964 by Oscar Touster, the first chair of the Department of Molecular Biology in Vanderbilt's College of Arts and Science and Graduate School.
Sid Fleischer joined the department as an associate professor and was named professor in 1968. Becca Fleischer developed independent recognition as an expert in the function of the Golgi complex, which would earn her a position as research professor in 1989. As a research team in the Laboratory for Lipid Protein Interactions, Fleischer and his wife co-authored many publications.
Throughout the years Fleischer issued invitations to join his lab to scientists, students and postdoctoral research associates from all over the world, including Italy, Switzerland, the Netherlands, France, Germany, Japan, Nigeria, China, Chile and Argentina.
"In 1964, while there was a growing movement for diversity at Vanderbilt, many people recruited students either internally or regionally," said J. Oliver McIntyre, research professor of radiology and radiological sciences and cancer biology, who collaborated with Fleischer for nearly two decades. "[lquote]Sid actively recruited for diversity in his lab. He had graduate students and postdocs from all over the world, including outstanding scientists and students from around the United States.[/lquote] He wanted these students to have the opportunity to study in America, and he wanted to expose Vanderbilt students to international faculty. He and Becca were very attached to their students and every Thanksgiving they had a big party at their home."
In 2002, Fleischer, who then also had a secondary faculty appointment in pharmacology, led a team of researchers who developed a new strain of mouse that exhibited cardiac hypertrophy — an enlargement of the heart similar to that which causes heart failure in millions of Americans each year — that helped understand why men are subject to this fatal condition while women are spared until menopause. By genetically engineering the mice, the team was able to "knock out" a gene that expressed a protein involved in the release of calcium ions into heart cells. Regular spikes in calcium concentrations within cardiac muscle cells cause the heart to beat.
The "knock-out" mice exhibited sex differences in the development of cardiac hypertrophy similar to those in humans. The male mice developed enlarged hearts but the females did not. However, when the females were given a drug that blocked the female hormone estrogen, their hearts enlarged as well. The research was reported in the journal Nature.
Fleischer's lab published more than 580 articles, abstracts and reviews. In addition, he was the editor or co-editor of 25 books, including 20 volumes of Methods in Enzymology. Becca Fleischer served as co-editor on 13 of those volumes.
During his extensive and productive career, Fleischer also was active as a member of the National Institutes of Health and American Heart Association, as a chair and lecturer at national and international research conferences, and longstanding editorial board member of the Archives of Biochemistry and Biophysics. He served as president of the Biophysical Society 1989-90, and was a visiting professor at the University of Minnesota, City University of New York, and the University of Kaiserslautern in Germany. In 2003 he was awarded an honorary doctorate at the University of Bourgogne (Burgundy), in Dijon, France.
Fleischer continued his research until his 2002 retirement and afterward continued providing ryanodine receptor antibodies to the scientific community worldwide. He exercised regularly at the Vanderbilt Dayani Center and enjoyed playing tennis with friends. A music enthusiast, he had every recording made by Johnny Cash. Fleischer was preceded in death by his wife in 1994. He is survived by niece Sharon Fleischer; nephews Dr. Jay Newman, Michael Newman and Amit Fleischer; and friend Ingrid Verhamme, a research assistant professor at Vanderbilt University Medical Center.