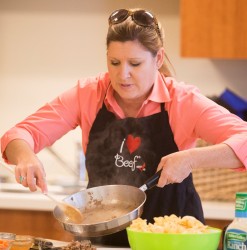 July is Beef Month, and you're invited to join Valerie M. Bass, executive director of the Tennessee Beef Industry Council, to celebrate at the next Vandy Cooks event, "Light and Easy Summer Meals."
Bass will create and offer tips on healthy beef dishes in the Demonstration Kitchen of the Vanderbilt Recreation and Wellness Center on Tuesday, July 19, from noon to 1 p.m. Come prepared to taste her creations for grilled steak and fresh mozzarella flatbread and for roast beef and veggie wraps. Recipes will be provided for the dishes prepared.
The Vandy Cooks series is sponsored by the Vanderbilt Recreation and Wellness Center and Health Plus. The demonstrations are offered monthly in the VRWC's Demonstration Kitchen to celebrate healthy eating at Vanderbilt.
Contact: Marilyn C. Holmes, (615) 343-2638