Media Inquiries
Latest Stories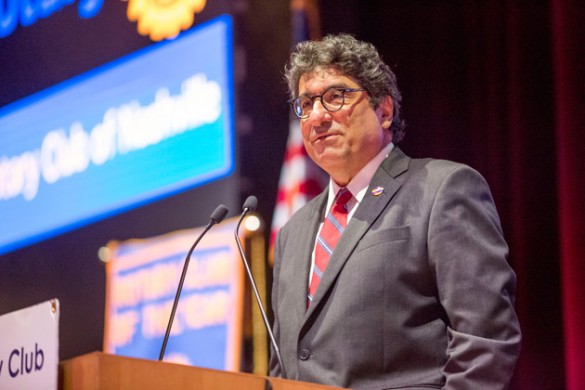 Chancellor Nicholas S. Zeppos told civic leaders this week that the missions of Vanderbilt University – discovery, excellence and diversity — mirror those of Nashville, and the two institutions are each made stronger by that relationship.
"The city and the university are transforming themselves," Zeppos said in a wide-ranging presentation June 13 to about 200 members of the Downtown Rotary Club. "Our interest is the long-term sustainability of our community. Here at Vanderbilt, we want to be good citizens and good partners, and we will continue to help shape and drive our community. We're in an amazing partnership with a rising trajectory."
He noted Vanderbilt's economic impact on Tennessee, estimated at $8.9 billion in 2015. "That impact will continue to grow and spread," he said. "You'll see much more startup and innovation activity come out of Vanderbilt, driving Vanderbilt and the local economy."
Zeppos described Vanderbilt as a world-class institution firmly rooted in the soil of Nashville. "[rquote]Universities reflect the soil they grow out of," he said. "We are a loving community. We are committed to raising the bar on that community and affecting societal change. Vanderbilt makes a big difference in the world."[/rquote]
Building a community of many voices and many backgrounds is essential to Vanderbilt's success, Zeppos said in talking about key initiatives that support that goal. The audience broke into applause when he described Opportunity Vanderbilt, the expanded financial aid program. "We meet our undergraduate students' cost of attendance based on their economic need — with no loans," he said. "Look at all the high schools in Tennessee. They all have valedictorians, team captains, student leaders. If these kids can't afford to go to college, we will see terrible stagnation in our social mobility. It will tear apart the social fabric of the country."
Zeppos also pointed to the importance of diversity in building a strong university — and a strong city. "At Vanderbilt, we don't discriminate. We celebrate diversity and we drive a culture of equality and opportunity," he said. "A university is a human capital institution. We compete globally for the best students, best faculty, best staff. If we start ruling out people and marginalizing them, we'll be out of business. If you're competing for the very best people and you don't have a welcoming environment, they won't come. "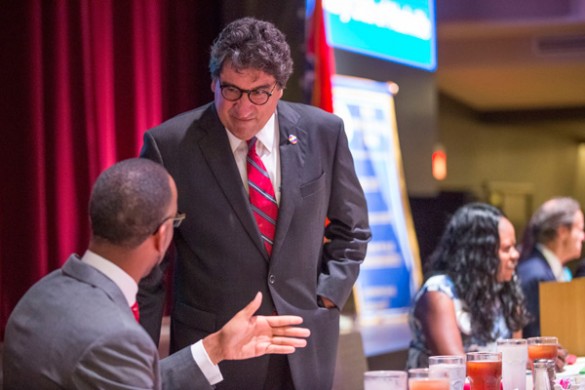 Looking ahead, Zeppos talked about the changing face of campus and the recent transition between the university and Vanderbilt University Medical Center. Currently under construction on campus are the 230,000-square-foot Engineering and Science Building, the 13,000-square-foot Innovation Center and the $115 million Vanderbilt Barnard residential college. He also spoke of plans to replace Carmichael Towers and explore housing for graduate students and faculty.
"You'll see the whole face of West End transformed over the next five years," he said. "Everything that's been built at Vanderbilt over the last eight years has been done without debt. We've used internal reserves and savings and benefited from philanthropy. We've also been able to build more because of the new relationship between Vanderbilt and Vanderbilt University Medical Center."
The transition, finalized in April, established the Medical Center as a fully independent, nonprofit entity separate from the university. Zeppos said the conversation began in 2013, when the Medical Center accounted for 80 percent of Vanderbilt's debt and 75 percent of its revenue. "I realized I had a little red schoolhouse with a hospital chain attached to it," he said. "It was clear the Medical Center needed to be its own business."
In closing his presentation, Zeppos stressed that the relationship between Vanderbilt and Nashville is essential to the success of both. "You've got to be great in your community, and our community starts in the first block off campus. If local people don't see us as partners, we're failing," he said. "Vanderbilt will continue to help shape and drive the community. I want Nashville to be great with Vanderbilt."