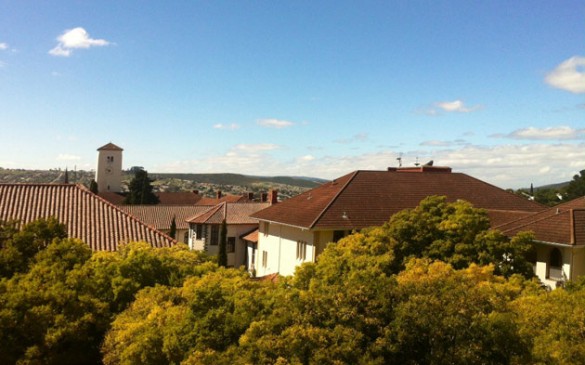 A Vanderbilt University faculty member researching the relationship between colorblind rhetoric and structural racism has been awarded an Andrew W. Mellon Foundation postdoctoral fellowship at Rhodes University in Grahamstown, South Africa.
Assistant Professor of English Marzia Milazzo, who is on research leave as a postdoctoral fellow in Rhodes University's English department, is completing her first book, Colorblind Tools: Global Technologies of Racial Power.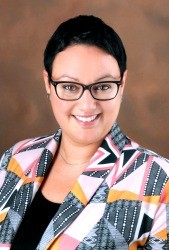 "I study colorblindness as a discourse, a legal doctrine, and a metaphor for the global attempt to render invisible racial inequality and racism," Milazzo said. "For example, when people enforce colorblindness, they employ terms like 'merit,' 'personal responsibility,' and 'reverse racism.' These words are often said deliberately to obscure how racism works and the reality of racial inequality."
Milazzo said that one example of rhetorical strategies used to obscure racism took place in South Africa in 2008, when a group of black journalists were accused of racism for not allowing a white reporter to participate in their meeting. The South African government successively banned black-only organizations. "It's difficult to imagine that a single-sex group formed to provide support for victims of domestic violence, for example, would be forced to invite members of the opposite sex," Milazzo said. "Yet in South Africa, where the economy and the media remain firmly in white hands, efforts continue to stop people of color from congregating in privacy without white presence or supervision. The over-policing of people of color and tactics of social control such as gang injunctions speak to the same phenomenon in the United States."
Milazzo, who earned her doctorate in comparative literature at the University of California, Santa Barbara, said that there are three parts to her book project. In addition to identifying the rhetorical strategies used to reproduce colorblindness, she is studying how colorblindness impacts scholarship across different disciplines, including economics, literature, philosophy and sociology; as well as how it unwittingly infiltrates literary works that challenge colorblindness.
"The third aspect of this research is historical and transnational. I am exploring how colorblindness is deeply connected to colonial discourse and how it operates in different national contexts—primarily the United States, South Africa and Panama," Milazzo said. "[lquote]While many scholars conceptualize colorblindness as 'the new racism,'" she continued, "I argue that colorblindness cannot be adequately understood through the lens of newness. White people have attempted to hide racism since the colonial era."[/lquote]
During her sabbatical, Milazzo also will work on a second book project that concerns literature by young black South African authors as well as black radical thought in contemporary South Africa. "I will conduct archival research at the National English Literary Museum, which collects the writings of all Southern African writers," Milazzo said. "During apartheid, black writers felt compelled to document the atrocities of apartheid in their work. An argument was made that if literature did not challenge racism, if it did not have political purposes, then it should not be written because the nation was dealing with apartheid. I am interested in what happens to race relations in literature written under democracy. My research challenges criticism that views race and racism as marginal concerns in post-1994 black South African fiction."
Courses that Milazzo has taught in the College of Arts and Science include "Anglophone African Literature (post-1994 South African literature)," "Ethnic American Literature," "Introduction to Latina and Latino Studies," and "Black Radical Thought."
While she is in Grahamstown, located in the Eastern Cape province of South Africa, Milazzo is also giving talks and workshops related to her research.